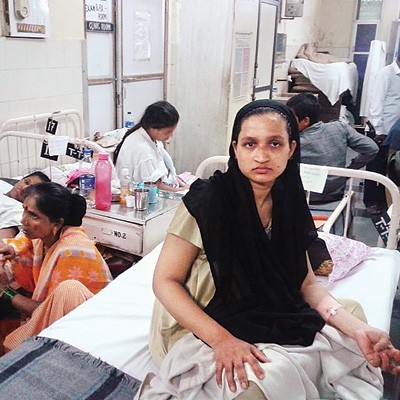 At least 28 women in BMC-run Kurla Bhabha hospital started shivering and developed severe breathlessness, along with chest pain, stomachache and headache, after they were given antibiotic injections for fever on Monday night.
Ceftriaxone manufactured by Jee Labs, Himachal Pradesh, and Cefotaxime manufactured by Sanjivini Parenteral Drugs, Navi Mumbai, were prescribed to 28 of the 32 patients admitted at Kurla Bhabha hospital. The injections were administered by the doctor on duty between 9.30pm and 9.45pm. Ceftriaxone and Cefotaxime are third generation cephalosporin antibiotics used to cure lower respiratory tract and other bacterial infections.
Thirteen women are being treated at Sion hospital and 15 at KEM. Of these, Suraiya Shaikh, 47, is critical. "While 27 have been stabilised, Suraiya remains unstable. We are monitoring her condition," Dr Pradip Angre, medical superintendent, Kurla Bhabha hospital, said.
Pooja Gawande, 18, a security guard at Kurla Bhabha hospital was among the patients transferred to Sion hospital. Gawande was admitted to the hospital's medical ward last Saturday after she complained of fever. She recounted developing adverse drug reaction (ADR) after being administered the injections. "Within 15 minutes, I started shivering. I developed severe chest pain and headache. After some time I became breathless. Before my health worsened, I saw other women in the ward developing similar symptoms."
Rabia Shaikh, 26, is eight months pregnant. Her husband Imamuddin was petrified when Rabia started convulsing after the injection was administered. He accused the doctors of being callous despite knowing that his wife was in the advanced stages of pregnancy. "They turned a blind eye to Rabia's sensitive condition. It became a matter of life and death for my wife and baby," Imamuddin, who drives an autorickshaw, said.
"At least 32 women were being treated at Kurla Bhabha hospital; 28 were given the injection and they developed reactions... We are still to ascertain the cause," Dr Vidya Thakur, in-charge, peripheral hospitals in the eastern suburbs, said.
"The patients are stable... They are on glucose and intravenous medication in Sion and KEM hospitals," Dr Avinash Supe, dean, Sion hospital, said.
The Food and Drug Administration (FDA) authorities visited Kurla Bhabha hospital on Tuesday and seized three samples each of both the injections and sterilised water. "The samples have been sent for toxicity tests at the Drug Control Laboratory in the FDA headquarters in Bandra. A letter has been sent to all government hospitals in Mumbai asking them to stop using a particular batch of these injections as a precautionary measure," Pramod Yasatwar, drug inspector, Zone 3, FDA, said.