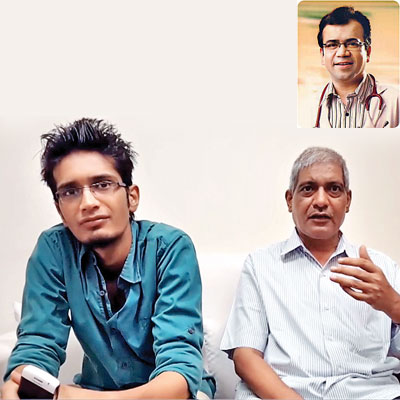 When his father's life was hanging in the balance because of liver failure, 20-year-old Mayank Singh decided to take a life-changing decision. He donated a major part of his liver to father Maan Singh, 53.
In February, Maan Singh, a resident of Antop Hill, was brought to SevenHills Hospital in Andheri (East) in a critical condition. "My father was slipping in and out of coma. Doctors said his liver was failing due to his pre-existing Hepatitis B infection, which had suddenly blown up," Mayank told dna.
Maan Singh was suffering from hepatic encephalopathy. "Toxic blood bypassed his liver and attacked the brain. It was laden with poisonous ammonia. This led to frequent bouts of unconsciousness and coma," explained Dr Silva Kumar, liver transplant surgeon and consultant at SevenHills Hospital.
Seeing his father's deteriorating condition, Mayank stepped up. "I did not think twice before donating my liver. Only my blood group and organ type matched with my father's," he said.
Mayank and Maan Singh were wheeled into parallel operation theatres on April 1. "In surgeries lasting over 10 hours, up to 65% of Mayank's liver was extracted. Maan Singh's damaged liver was removed and Mayank's liver was transplanted into his body," said Kumar. Liver has the capacity to regrow to its normal size within a couple of months.
Young Mayank is studying to be a flight steward but missed his classes. He has now decided to take a break for six months. Maan Singh can't stop raving about his son's sacrifice. "I am living my son's life now. His health has taken a major beating after the donation. He has lost eight kilos and can't go to the gym for three months. He has missed his placement interviews too. What he has done for me is immense," said Maan Singh.
The surgery cost Maan Singh close to Rs15 lakh. A government employee, his expenses were taken care of by his department.
Every year, 20,000 patients in India require liver transplants, but barely 1,000 get the organ. "Up to 70% of the remaining 19,000 die within a year. Patients do not end up getting a liver either due to lack of live donors or cadaver organs or the skyrocketing expenses," said Dr Subhash Gupta, chief liver transplant surgeon, Apollo Hospitals in New Delhi and SevenHills Hospital.
In Mumbai, 200 patients are currently on a wait list for liver. "We subsidise costs of transplants by up to 30% and reach out to poor patients."