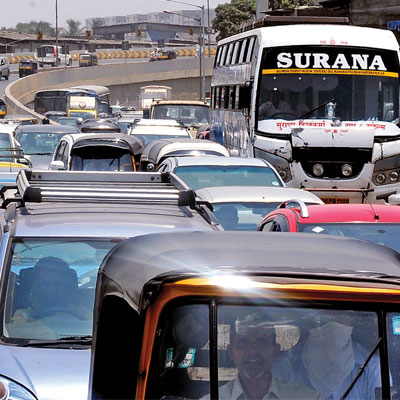 With Monday being the first proper working day after the inauguration of the Santa Cruz-Chembur Link Road, the traffic police had a tough time directing traffic, which was 20 times more since Friday.
What also added to the congestion was the rally of BJP chief Narendra Modi. The Mumbai traffic police has restricted the entry of commercial goods vehicles on SCLR but due to the political rally at BKC the density of vehicles increased massively.
It was only on Monday that the traffic police realised that on a normal working day managing traffic, especially during peak hours is going to be difficult task unless the problem areas are dealt with.
While the commuters complained about bottlenecks at least in four places on SCLR, which was causing backlog, the traffic police said that it was only at Mohamed Raza Road in Kurla- Kalina, where traffic snarls was observed as there was no signal at the junction. At the said road, four lanes narrow down to two lanes and with the absence of signal there is chaos which disrupts the traffic movement.
A traffic official said that they have requested the authorities to widen the road at Mohamed Raza Road in Kurla-Kalina and install a signal to ease the movement of vehicles. The traffic police had also started a drive to clear scattered scrap by the scrap dealers on Hans Bhurga Marg, which disrupts the traffic movement. The traffic police claims that they have managed to clear almost 90 per cent of the scrap from the road.