Many residents, including the Global Punjabi Association, and local Sena leaders provided free snacks and water for the mourners and policemen along the route.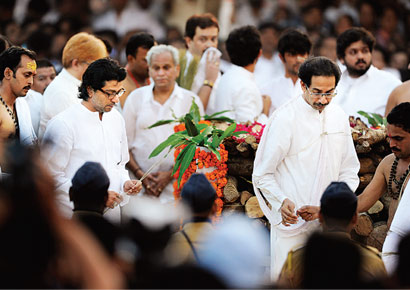 There were people, more people and a lot more people.
Mumbai had never before witnessed such a sea of humans as supporters of Shiv Sena chief Bal Thackeray occupied every inch of space from Matoshree at Kalanagar in Bandra (East) up to Shivaji Park in Dadar to pay their last respects to their beloved leader on Sunday. The police pegged the figure at around 20 lakh.
"I got a very good darshan of his face. He is like a deity to us. We even managed take a few pictures of the funeral procession," said Amod Wadke, who had come from Pune with 25 of his colleagues.
Wadke and many others from across the state rushed to Mumbai after hearing about Thackeray's demise on Saturday.
Ghatkopar resident Madhukar Chiplunkar reached Matoshree at 11pm on Saturday and stayed up all night to catch a last glimpse of his leader. "I wanted to see him... and I managed to do it. Now, I will follow the procession to Shivaji Park for the last rites," said Chiplunkar.
And the mourning Sainiks did not just shed tears for their leader, they chanted slogans such as "Balasaheb amar rahe," and "Ekach saheb, Balasaheb," and waved the party flags. A few Sainiks strung up baskets of flowers across the roads and as the truck that carried his body passed beneath, they showered the flowers on him.
A few party men held a 200m long saffron cloth over their heads and walked along with the funeral procession. Besides standing on dividers, the Bandra flyover, building terraces and balconies, people also climbed trees to watch the truck carrying Thackeray's body along with his family members.
Though the crowd crossed the 20-lakh number, it maintained discipline throughout the journey, thought the police feared a stampede-like situation at certain spots. Except for a few cases of pockets picked, no other complaints were registered with the police.
The junction outside Shiv Sena Bhavan was filled with supporters for nearly 1km on every side. The procession reached the party headquarters at 3.25pm, and Thackeray's body was kept inside the building for around 25 minutes.
Members of the Koli community lined up at Mahim Causeway to pay their last respects. "He stood by us all times... He made sure we get a place for business and even helped us with household repairs," said Nitin Tandel, a fisherfolk who stood with his family at Mahim.
"Thackeray did not do anything for me in particular, but as a son of the soil, I could relate to what he has done for us. He could put policy makers on the back foot," said Nitin Patwardhan, a resident of Mahim.
Many residents, including the Global Punjabi Association, and local Sena leaders provided free snacks and water for the mourners and policemen along the route.
Pickpockets try to make a fast buck
Pickpockets tried to make a killing among the sea of mourners following the cortege of Shiv Sena chief Bal Thackeray on Sunday. While there is no official count of the number of pockets picked, the Mahim police station registered three cases of robbery bids and arrested six persons. "Kiran Sawant, Harish Jadhav, Sanjay Pondkar, Kailash Patil, Sayyed Aqil and Sayyed Rashid, who were booked in three separate attempt to robbery cases were first caught by the public, who then handed them over to us," said sub-inspector Satish Borate of the Mahim police station. Even the Shivaji Park police station registered cases of stolen mobile phones. No arrests were made.
Muslims laud Thackeray's work in the civic body
As Shiv Sena president Bal Thackeray's funeral procession made its way through the Muslim-dominated areas of Mahim, surprisingly, a few of the locals joined the crowd. Rafiq Patel, who made arrangements for providing free drinking water for the mourners, said: "I have met Thackeray on two occasions. I do not think it was just Hindutva; in his personal life, he was much beyond that." Another Mahim local Mushtaq Qureshi said: "We are here to pay shraddhanjali to him. Though Hindutva was his political game, Thackeray did a lot of good for the city through the municipal corporation."

Saheb's body taken to Sena Bhavan
Shiv Sena chief Bal Thackeray's supporters standing outside Shiv Sena Bhavan in Dadar to witness his funeral procession, got emotional when his body was taken inside the party headquarters at 3.30pm. Thackeray's body was kept at Sena Bhavan for nearly 27 minutes. In 1996, Sainiks had to go through a similar emotional turmoil when the body of Bal Thackeray's wife Meenatai was brought to Sena Bhavan following her demise. "Thackeray was broken after her demise. This time the Sainiks were broken after his body was brought to the Bhavan from where controlled the party and government for four decades," said Yogesh Chitale, a party activist.