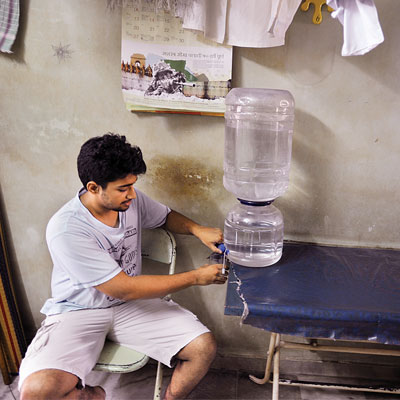 Residents of Khernagar in Bandra (East) are receiving contaminated water for almost two years and the Brihanmumbai Municipal Corporation (BMC) has not been able to solve the problem yet.
The problem lies in the choked-up sewerage pipeline in the area. The civic body has neither repaired the line, nor has it laid a new one. The sewerage line is choked-up with concrete debris from the nearby construction site.
Residents of the area purchase up to 20 litres of mineral water every day. "This has been the story for the past two years and the civic body has done little to help us. Initially, they did some rectification work which helped improve water supply for at least three-four months. However, their temporary effort served no purpose for us," said Mahesh Shetty, a resident from the area.
In November 2012, the sewerage pipeline was damaged by a private developer between buildings five and six of the MHB Colony in Khernagar while it carried out piling work while laying the foundation of a new building. This had led choking of the line to and water contamination.
In its issues dated November 4, 2012 and November 6, 2012, dna had reported how the residents were receiving water with sediments of sewage. Residents claimed that sewage water was choking their toilets and gushing into their houses. They had complained about it last November and the BMC had managed to solve the problem temporarily.
While engineers from BMC's water department claimed that they were trying to resolve the problem, Rajiv Jalota, additional municipal commissioner said that they would try and fix the problem before the monsoon. "The area is like a saucer and if the sewerage lines are choked and not cleared in these forty days before monsoon, we might be in a problem," said Jalota.