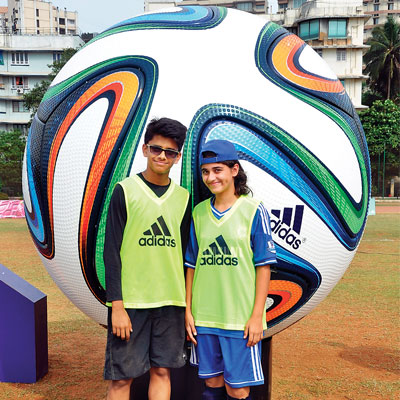 After the election fever, there is another kind of fever that has a strong hold on the city and that is the Fifa World Cup 2014. What makes it more exciting is that six children, two each from New Delhi, Bangalore and amchi Mumbai, have been selected to be the official flag bearers at the upcoming tournament that begins from June 12 at Sao Paulo in Brazil.
The children were selected by a sports brand that held a competition on - why they should be the official FIFA flag bearer and also tested on their footballing skills.
The lucky two kids from Mumbai are Drishti Punjabi, 16, and Pranjal Agarwal, 15. They will head to Sao Paulo for the pre-quarterfinal match on July 1. Before the match begins, the kids will be on the field holding the fairplay flag. This is not all, they will also be participating in the team's national anthem and will be interacting with the players.
Talking to dna, Agarwal, a student of Delhi Public School, said, "I have been playing football since I was in standard I. It's almost 10 years that I have been playing the game. It was my dream to watch the game live, always!" Agarwal's will be rooting for Germany. And undoubtedly for him, Lionel Messi is the best player. "I am very excited about going to Brazil. I have already started shopping," said Agarwal.
Whereas Drishti from Walsingham House School, has been playing football for the past six years. "Yes, I do follow FIFA, but I don't watch it on TV, I read about it in the newspaper. I had thought about this, but never in my wildest dream I thought it would be true," said Drishti.
The teenager is a Chelsea fan. And cannot wait to meet her favourite palyers.