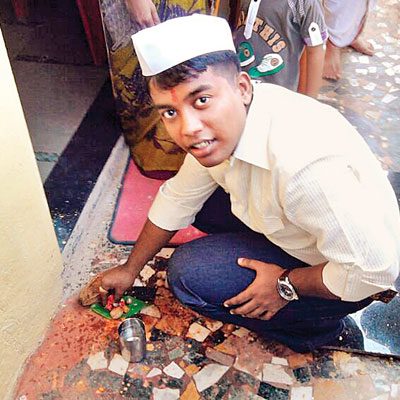 The Vashi division of the Government Railway Police has arrested two people in connection with the murder of a 21-year-old engineering student, who was stabbed on a moving train on June 12.
The suspects have been identified as Jayanta Som alias Raja Hindu, 21, and Madhav Sarkar, 22, both natives of Howrah in West Bengal.
The police said the suspects first tried to rob the victim, Tushar Jadhav, but got scared after they stabbed him seven times on his neck and stomach. They then jumped off the train without taking any of his belongings, said the cops.
Jadhav, a third-year student of Rajendra Mane College of Engineering and Technology in Ratnagiri was returning home after exams on June 11. After reaching Panvel, he boarded a Thane-bound train to reach Airoli when he was attacked.
A GRP cop, who was patrolling in a ladies coach, found Jadhav in a pool of blood in the adjacent luggage compartment at Ghansoli railway station and took him to a civic hospital in Thane. Jadhav succumbed to his injuries on the way.
"The suspects boarded the train at Mansorovar. After other commuters got off the luggage compartment at Koparkhairane, they attacked him," said Rupali Ambure, deputy commissioner of police, GRP. After committing the crime, the duo jumped off the train at Ghansoli station.
Ambure said the CCTV cameras at Mansorovar and Ghansoli captured the suspects and they were searching for similar looking people. They also questioned several commuters. "On Tuesday evening, acting on a tip-off, we arrested Jayanta near railway tracks in Sanpada," said Nitin Bobale, senior inspector of Vashi GRP.
Jayanta led the cops to Madhav, who was sleeping in the booking hall outside Vashi station.
Bobale said Madhav had been working as bartender in Mumbai for last five years, while Jayanta had come to city just one-and-a-half-month ago and was searching for a job.
"The suspects have confessed to the crime. We have booked them under Section 302 (murder) of the Indian Penal Code. We are probing to find if they have any criminal record," Bobale said.
Family alleges negligence
According to the Jadhav's family, he was a brilliant student right from his childhood. He had developed a new vehicle and was about to get it registered with a research center in Wadala. He was all set to leave for Germany to take further training on it next month.
"Tushar was bleeding profusely when the police found him on the train. There are many good hospitals at Ghansoli. Inspite of that he was taken all the way to Thane, which took almost 25 minutes. Had he been taken to a hospital in Ghansoli, he would have survived. Negligence on the part of the GRP cops is also one of the reasons behind his death," said Savita Holmukhe, Jadhav's aunt.