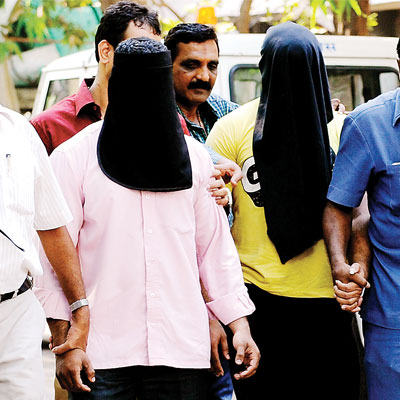 Two men, who the police say are members of the Ravi Pujari gang, were arrested in Kandivli on Sunday in the possession of a carbine, a pistol and ammunition.
The men, identified as Deepak Padwal, 27 and Amol Sawant, 29, work as bouncers at a club in a 5-star hotel in the western suburbs, the crime branch said.
Sadanand Date, joint commissioner of police (crime), said the incident does not seem to have any connection with the elections.
Date said the anti-extortion cell received specific information that some associates of the Pujari gang would be stopping at a hotel in Kandivli (East) to deliver weapons to a criminal and so they laid a trap.
The police recovered a carbine, two magazines and eight live rounds of 9mm cartridges, a country-made pistol and a magazine and five live 7.65mm cartridges.
On Monday, the men were produced before a local court and remanded them in police custody till April 25, said assistant commissioner Jaywant Sarmokadam.
Senior inspector Vinayak Vast said that earlier this month, two other Pujari gang members, Dattatray Waghare and Kamalsingh Rajput, who were also working as bouncers at the club, had been arrested by the Mangalore police.
"It was revealed during interrogation that Rajput had asked them to transport these weapons. The case has no connection with the general elections. We will seek custody of Rajput to find out what these weapons were to be used for," said Date.
Firearms seized this year
Carbine : 1
Revolvers : 17
Pistols : 7
Number of persons arrested in these cases : 20