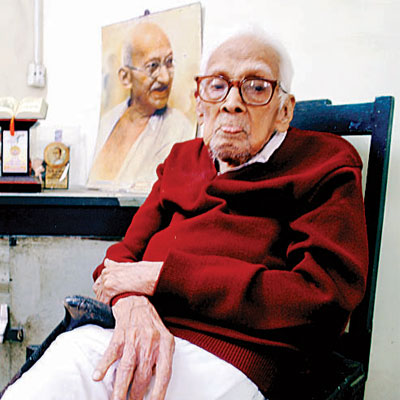 Freedom fighter 101-year-old Dattaji Tamhane passed away on Monday morning. Dattaji served the nation in the true sense, sacrificing his youth to gain independence for his country.
He lost his father when he was just nine. He moved to Thane from Ratnagiri in 1920, completed his higher secondary in 1930 and then joined a two-year engineering diploma course. But he soon realised that more than a job, the country needed him and became part of the struggle for Independence. He also participated in the Quit India movement.
He had vivid memories of the Simon Commission, Mahatma Gandhi, former prime ministers Pandit Jawahar Lal Nehru and Indira Gandhi, and used to narrate stories related to them. He used to say: "I can never forget the day when my father introduced me to Lokmanya Tilak in 1919 and consider it the biggest moment in my life."
After Independence, he took up the cause of the tribes in Wada, Palghar, Dahanu and many places in and around Thane and kept fighting for them for 40 years. He also contested the MLA elections in 1957 and won. He however, gave up active politics after sometime.
Dattaje, who had moved to Mulund from Thane, used to visit Thane everyday when he was well, but for the past two years he had been leading a quiet life at his Mulund residence, reading most of the time. He was to celebrate his 102nd birthday on April 13, but sadly passed away a week before that.