Driver, a native of UP, held; cops probe extortion angle since her dad is a builder.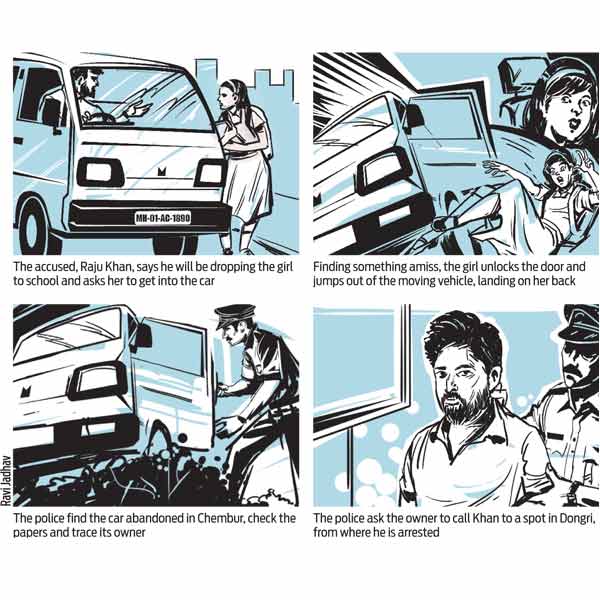 In a dramatic incident, a 10-year-old girl escaped from the clutches of her alleged abductor by jumping from a moving vehicle on Friday morning in Dongri. The police nabbed the alleged kidnapper, Raju Khan, a few hours after the incident.
The police are now trying to find out the motive behind the kidnapping. Since the girl's father is a builder, investigation is on to find out if the suspect planned to abduct the girl for ransom.
The incident occurred around 7am, when the girl was waiting at SVP Road near Sandhurst Road station for her school van. "The girl used to take a private van to school," said an officer. "A red Maruti Omni van approached her and the driver asked her to get in," the officer said.
"After getting into the van, the girl realised something was amiss because it wasn't the regular driver driving nor was it the regular van," the officer added.
At the same time, the girl happened to catch a glimpse of the regular van passing by, and she immediately knew something was wrong. "Without a second thought, she unlocked the door and jumped out from the moving vehicle," the police officer said.
The girl sustained minor injuries and was rushed to a nearby hospital by passers-by. Motorists and pedestrians noted the vehicle's registration number (MH-01-AC-1890) and alerted the police control room. The police then traced the vehicle owner, a woman, also a resident of Dongri area.
"The woman told us she had given the vehicle to her driver. We then asked her to call him to a spot in Dongri. He came there in the afternoon and was arrested. The van was found abandoned in Chembur," Prakash said.
Accused lives in city with wife & kids
The arrested person has been identified as Raju Khan, a native of Kanpur, UP, who has been living in Govandi. He is married and has two children. He has been booked under various sections of the Indian Penal Code and the Prevention of Children from Sexual Offences Act for kidnapping, kidnapping for wrong purposes and using assault or criminal force to woman with intent to outrage.