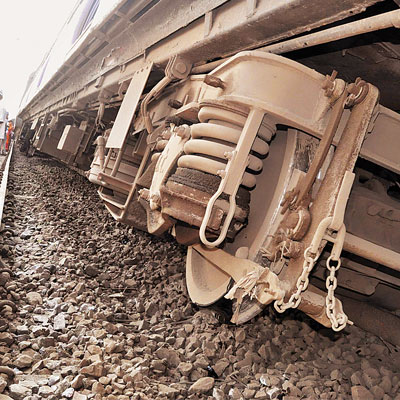 One person has died and nine people have been left injured after a Kasara-CST bound local train derailed between Titawala and Ambivli station on Thursday. The mishap occurred on the Up-line between 2:40 and 2:50 in the afternoon.
Of the 12 coaches, five coaches derailed. The deceased has been identified as Mayur Lodha,18, a Ghatkopar resident. Lodha was in one of the derailed compartment. He panicked and jumped off the train that in turned out to be fatal.
The boy had appeared for his HSC exam this year and was the only child of his parents. He had gone to Titwala along with his friends. According to sources, Lodha was standing at the foot of the door when the incident happened. As a result, he jumped off while his friends were still inside the coach. As soon as the train halted, his friends went to search for him. They found him bleeding profusely, he had suffered a head injury.
It is alleged that for an hour after the incident, passengers received no help.
The tracks have been damaged and it may take a few days for repair and all express trains from this route have been cancelled for a day.
A GRP official from Kalyan, said, "When the train derailed the weak D-coupling got hit and as a result it broke, which led to this accident. We rushed to the accident site and helped to evacuate the passengers."
One of the injured passenger Baban Mahadev Patil said, "Minutes after crossing Titwala Station, there was a sudden jerk and the train began to tilt. Passengers started to fall off especially those who were standing near the door. Many got hurt due to the sudden jolt. One of my co-passengers was seriously injured, we somehow managed to carry him to a near by village."
Central railway PRO AK Singh said, "Cause of derailment is yet unknown. We are investigating the matter."
Out of the nine injured, six have been shifted to Fortis Hospital, Kalyan and the remaining three are in the Kalyan Railway Hospital, said an official.
Central railway has announced a compensation of Rs50,000 for the kin of the dead person and Rs15,000 for those who are severely injured and Rs5,000 for passengers, who have sustained minor injuries.
In a span of two weeks, this is the second time the D-coupling has taken place. Railway officials claim that the five coaches derailed moved after D-coupling.
List of injured people
Inam Abdul Khalid Khan,
Dipika Dagle,
Jaffer Kahan Hasiyat,
Mohammed Nasir,
Pradip Janade,
Kitabuddin Hamid Khan ,
Nisha Chavan,
RN Dubey.