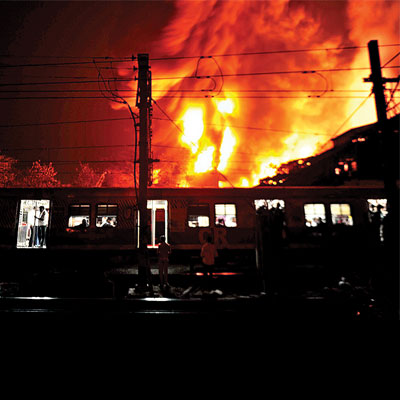 One person was injured after a fire broke out at the CEAT tyres factory close to Nahur station on Sunday evening. Sixteen fire engines and 10 tankers were rushed to the spot to control the blaze, which started around 5.30 pm.
The cause of the fire could not be ascertained immediately. At the time of going to print, the cooling operation by firefighters was still on. "The total number of injured can be ascertained only after the operation is over," said an official. The police were yet to register a case till late on Sunday.
The injured has been identified as Ganesh Kupte. He has been admitted to BMC-run M T Agarwal Hospital in Mulund. Thirty-year-old Kupte has sustained 20 per cent burns on his face. The doctors have said that his condition was stable.
The entire area was covered with smoke as a result of the fire. Train services on the Central Railway were affected due to the fire. Central Railway officials said that the flames spread to the nearby Nahur station and near the tracks as CEAT factory shares a boundary with platform number 1 of Nahur station.
The trains were running behind schedule and the frequency of both up and down trains were affected. "We did not stop the train services, however, we diverted trains from the slow to the fast tracks after 6pm," said A K Singh, PRO of Central Railway.
The blaze caused a lot of panic and prompted commuters to leave the platform and take rickshaws to the nearby stations.
"The cause of the fire is still unknown. We are awaiting fire brigade reports, after which further action will be taken," said a police officer from Bhandup police station.