Reeeling from the aftermath of the Muzzafarnagar riots and accusations of misgovernance in Uttar Pradesh, Akhilesh Yadav has been a beleaguered chief minister. Predictibly, rather than focus on development or issues of governance, he and the Samajwadi Party have been increasingly focusing on the issues of polarisation and "secularism". In the interview that follows, he makes a point on how "giving laptops to all post-class12 students is a scheme that is the most secular and youth empowering one across India".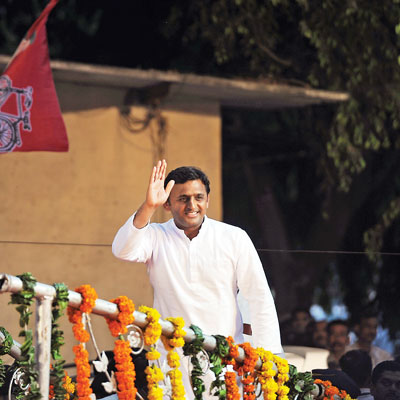 The Samajwadi Party, which rules India's most populous state, Uttar Pradesh, always remains in news, albeit, for wrong reasons. Besides the Muzaffarnagar riots, which dented the party's major vote-base, the controversial remarks by its party leaders continue to create trouble for the young UP chief minister, Akhilesh Yadav (40), who has been in power for two years now. The junior Yadav was in Mumbai on Monday to campaign in the North-Central Parliamentary constituency from where its youth leader, Farhan Azmi, is trying his luck. In a media interaction at a Saki Naka hotel, Akhilesh defend his government and the party.
Your father Mulyam Singh Yadav recently spoke against capital punishment for rapists saying 'rapes takes place due to "mistakes of the boys".
He later clarified his remarks. In my view, rapists must be given a punishment that is harsher than the death penalty, if there's any.
Your take on Raj Thackeray's comment that loads of people from UP and Bihar come to Mumbai everyday because these states had failed on development.
This explains the narrow mindedness and lack of knowledge of all such leaders. UP is growing very fast. We are the largest milk and wheat producer, as well as the largest rice exporting state. We are giving laptops to all post-class12 students, a scheme that is the most secular and youth empowering one across India. No other state has done something like that. Indian Constitution allows everyone the freedom to work. People have been migrating across the world. Does the US ever say that Indians are flocking to that country because India is underdeveloped? Those indulging in anti-north Indian ranting (read Raj Thackeray) are now supporting Narendra Modi. All I would like to say is that you must have a larger heart than a 56" chest.
Will you admit that the Muzaffarnagar riots considerably dented your party's and your image?
The Muzaffarnagar riots started from a small fight. As soon as we came to know of it, we swung into action. The army was called in within four hours. Our relief work was also excellent and appreciated by the people and authorities.
The BJP has included Ayodhya temple issue in their manifesto. Do you think temple politics would stir the state once again if BJP comes to power?
Including Ayodhya temple issue in the manifesto is a clever move. The temple has been their poll propaganda since long.
What is your take on the Modi wave and the perceived fear among Muslims about BJP coming to power?
There is no Modi wave. Whatever push the BJP has got, it's all because of the flawed policies of the Congress. Ten years of UPA rule saw corruption on a massive scale, inflation and crony capitalism. You can't fool people by showing GDP and such statistics. The people in general and farmers in particular are facing a tough time. Job avenues are skewed. Congress is going to lose and hence it's creating a false terror of the BJP among Muslims. The Congress may have accepted defeat, but SP is capable of taking on the BJP. Muslims need not panic. No government is possible at the Centre without SP support.
What is your poll pitch for Maharashtra?
I am seeking support for Farhan Azmi and 22 other SP candidates contesting from Maharashtra. Our candidates are young and committed. They will work for the people, the youth, the north-Indians and Muslims. We will provide education and health care for free.