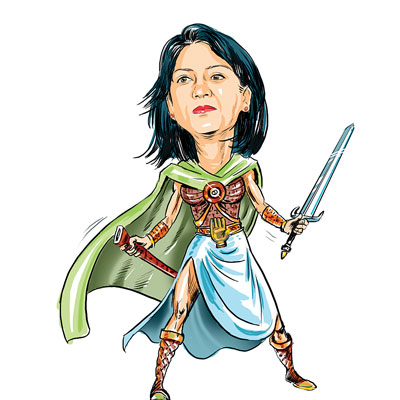 The Mumbai Central-North Lok Sabha constituency is witnessing a razor-sharpbattle with sitting MP Priya Dutt (47) of the Congress trying for athird time and the BJP's youngest candidate Poonam Mahajan (33) trying hard to wrest this seat. Even though AAP has fielded lawyer Phiroze Palkhivala, the contest here essentially is a straight fight between Dutt and Mahajan. In between her heavy campaign schedule, Dutt spoke to dna.
Excerpts:
Your father, the late Sunil Dutt,represented this constituency five times. But, does his legacy stillwork?
When his seat fell vacant, I contested the by-election and won. At that time the fact that I was my father's daughtercertainly helped me in a big way. But I realised that people gave youa chance only once because you are the child of a celebrity. But thenext time around they expect you to perform. I realised this early inthe day and has been trying to create an individual identity formyself. In fact, my dad always used to tell me to create an identityfor myself and not be in his shadow. I have done so many things inways different from my dad. I worked hard in my constituency duringmy last two terms and gained wide acceptance.
You do enjoy enormous goodwill inyour constituency. In fact, if there is one seat in the city whichthe Congress is most confident of winning, it is yours. But, won'tthe massive corruption, raging inflation and the strong anti-Congresswave neutralise that goodwill?
There have been allegations ofcorruption against my party. But look at the way we have responded toeach one of these allegations. Where it be the 2G controversy,coalgate or the defence deals, we have responded promptly by orderingimpartial inquiries into them. Many persons have been sent to jail.In the case of coalgate, the revenue loss pegged at over Rs1 lakhcrore by the CAG is purely notional and yet we took the allegationsseriously and took corrective measures. The Right to Information isthe most powerful tool against corruption. Thus, our track record ofcombating corruption is very strong. Yet the opposition is trying tocreate a wrong perception about my party. We gave the importantdefence portfolio to an honest leader like AK Anthony. He hascancelled contracts worth several thousand crores the moment therewas even a whiff of controversy. One cannot expect a better responsethan that. The price rise issue was also handled by my party'sgovernment with great sensitivity keeping the common man in mind.
The MNS has not put up itscandidate against you. Does this worry you since it could have helpeddivide Marathi votes and thus helped you win?
Franklyspeaking, I never looked at my voters as Maharashtrians, Muslims,Uttar Bharatiyas etc. I look all of them as Indians. I have neverbelieved in vote bank politics. In fact, I am not good atnumber-crunching. My performance for last several years is there forthe people to see. I understand them and have a great connect withthem. I have remained in constant touch with them and they know it.They see me as an honest politician who genuinely cares for them.Thus, it does not worry me at all. And there is no MNS nomineeagainst me. I don't believe in the politics of divide and rule.
There were reports that local MLAKripashankar Singh has complained to your party leadership that youare not taking him into confidence. Won't this affect your campaign?
I have no problem with Kripaji. Infact, all the five Congress MLAs, including Kripaji, had recommendedto the leadership that I should be fielded again. Following reportsin the media, I talked things over with Kripaji and all matters havebeen sorted out. The entire party organisation is working for mysuccess.
The BJP has alleged that you neverperformed well in Parliament. Please comment.
It is a white lie. I have taken upseveral issues concerning Mumbai, women and development. Since theBJP has nothing else to say, it is inventing stories. But the peopleknow the truth.
What are the issues you focus onthis time?
My constituency has a variegatedprofile; from the vast slums to tony areas like Carter Road. Theproblems of my voters vary and I have tried to address them to thebest of my ability. I am focusing on developmental issues. It isbecause of my efforts and that of my MLA colleagues that we have beenable to improve infrastructure in my constituency. Milan flyover is acase in point. Ever since my childhood I have been hearing aboutflooding at Milan subway. Today, it is a thing of the past. The SantaCruz-Chembur link road will be open to traffic anytime now. I had setup a cell consisting of lawyers to scrutinise all agreements betweenslum-dwellers and builders undertaking slum rehab schemes. This waythe poor will not be cheated.
The BJP says that you are defendingSanjay Dutt. Does this worry you?
Sanjay is my brother. And the bondbetween a brother and sister cannot be questioned. It is sad ifanyone is doing that.