One among its rising leaders in the state, BJP leader Vinod Tawde, has managed to bring a certain prominence to the post of the leader of opposition in the Legislative Council. In a freewheeling interview to dna's Sanjeev Devasia, Tawde admits the mistakes made by his party and also the future of BJP.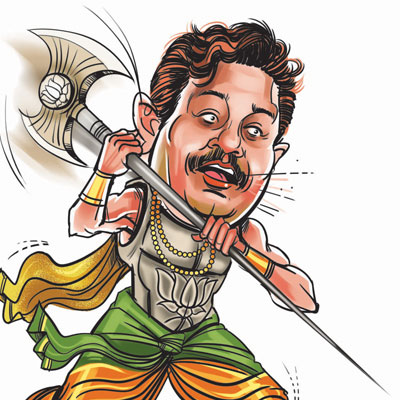 How do you look at your party's chances in the state this time?
The BJP's tally in the state will go till 19 to 20 seats. Such is the Modi wave that even in remote areas such as Gadchiroli, where there is no sign of social media, people are rooting for him and we expect turnout to go up by 12 to 14 per cent.
If there is a Modi wave, then why do you all want the support of MNS?
We will anyways touch 19 to 20 seats. It is for the rest that we want to avoid a division of anti-Congress votes.
After having a stable alliance of more than 25 years, do you think it was justified in cutting a secret deal with the MNS without keeping the Shiv Sena in the loop?
It would have been better, if Sena was kept in the loop. The secret deal was not against them, it was for the benefit of the Sena-BJP alliance. But Nitin Gadkari's calculations may have gone wrong, as perception was built that it was meant to benefit only the BJP. However, we have now drawn curtains over the issue.
Is the leadership of the BJP in the state worried over the future of the Shiv Sena in the state especially in the absence of Bal Thackeray?
There is no such fear as the Shiv Sena organization is strong and has been built that way by Balasaheb in that manner. It is a cadre-based party and Uddhav Thackeray has taken full control over it.
When the Shiv Sena is already miffed over BJP's overtures towards the MNS, you approached the MNS for support in the Legislative Council elections?
We had told the Sena leadership that we would need the support of other parties as we were short of votes.
Neither your state president nor your central leadership have openly endorsed what Gadkari did?
Our leadership has communicated whatever it wanted to convey to the Sena leadership directly. So there was no question of making any public statement on the issue.
Despite BJP being in one of its most upbeat phase, there is dissidence in the party in places like Sangli, Ahmednagar, Raver and Pune?
In Sangli, we had opposition from our local MLA Sambhaji Pawar, but all our surveys showed that Sanjay Patil would do better. It was a seat, which was a traditional Congress bastion. Besides, it is important to win every single seat. We gave tickets to candidates with Congress and NCP background. In Raver, we gave put up Rekha Khadse as we expect people to sympathise with her.
As an opposition party, there is a perception among people that you all don't take issues like corruption of the Congress-NCP alliance government to its logical end?
We have been taking up all corruption issues regularly in the legislature. But you should also understand the present government has not acted against tainted minister despite court intervention. We have been proactive and have even submitted whatever evidence we had before the Chitale Commission. But beyond a point we cannot do much in the legislature.
Don't you think that the recent war of words between Uddhav and Raj Thackeray, especially what was fed to Balasaheb Thackeray affect your alliance too?
Yes this should not have become an election issue. Besides Balasaheb's stature in the minds of the people is very high, therefore both should concentrate on attacking the Congress-NCP government.
What do you think about the AAP effect in the state?
After failure in Delhi and violation of laws in Mumbai during their rally, people think AAP is no different from others. AAP leader Mayank Gandhi belongs to a family of builders, while Anjali Damania comes from a family of stock brokers. None of them are aam aadmi.