Prof S Parasuraman, director of Tata Institute of Social Sciences (TISS), a central university in Mumbai, is a respected and popular figure in academic circles. His pupils regard him not only as an excellent teacher and researcher but as a sensitive human being with whom they can share their worries. In an interview to Kanchan Srivastava he talked about communal riots, Modi's development model and what is necessary to help the poor in the country. Following are edited excerpts.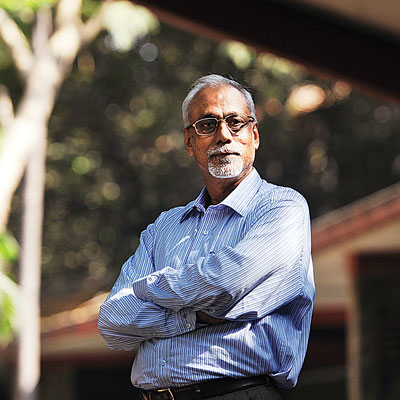 Q: In the ongoing general elections we have witnessed extreme polarisation of society. How is this affecting our social fabric?
A: The ruling class around the world has used the 'divide and rule' policy for ages. Today's politicians are no different. They deliberately ruffle sentiments of communities to create fear among vulnerable people. Though it's unclear whether these leaders are actually able to help the community at large, personally they all have gained. Almost all political parties have sought to polarise people on some or the other grounds. This allows them to exploit the people by creating virtual enemies. Marathi will see North Indian as enemy, Hindus see Muslims as enemies, and vice versa, and so on. Vulnerable people will continue to suffer as they are unable to identify the real enemy – the powerful ruling class.
Q: Do you think earning Rs28 a day in a village or Rs32 a day in the city is enough to be classified as not poor?
A: The poverty line is an arbitrary and imaginary classification of people created by a handful of insensitive government officials. They seek dearness allowance for themselves every six months but don't consider this when it comes to the poor. India doesn't need a poverty line.
Q: Then how will the government disburse subsidies for the poor?
A: The public distribution system shouldn't restrict people who earn slightly more than the people below the poverty line (BPL). Those who can afford will not go to the ration shops, to stand in queue to save a few rupees. The public distribution system must cater to all needy people.
Q: Have you studied the Gujarat model of development which Narendra Modi, the BJP's prime ministerial nominee, would seek to implement across India should he come to power?
A: Modi's Gujarat model is the classic capitalism model which seeks economic growth at any cost and by any means. The single-mindedness on increase in GDP doesn't necessarily ensure social justice. You may also classify it as neoliberalism which seeks to invest in sectors that yield more profit. For example, the land given to industrialist Gautam Adani was said to be barren land. But it was used to develop a port, which led to restricted entry for fishermen and destroyed the ecosystem as well.
Q: Does this mean that India shouldn't grow? Developed countries like the US, the UK, Germany and Russia have grown through industrialisation only.
A: Unfortunately, India adopted the US model of growth. What we didn't see was that they killed the indigenous people during the course of development. When the British came to India, they destroyed our caste system and created a new social order, they destroyed the zamindari system and dynasties. Democracy created a fresh order that led to crony capitalism. A handful of people have acquired huge wealth, while the poor and the farmers continue to suffer. India needs a human capitalism model. We must not deprive people from their livelihood and basic necessities. Like Amartya Sen says, build capabilities of people so they can enter the labour market.
Q: Which countries have developed keeping human capital in mind?
A: Scandinavian countries have created wealth which benefits all.
Q: In the past few years, southern states like Kerala and Tamil Nadu have also seen a rise in saffron groups, followed by Muslim radical groups which was unexpected.
A: This is due to the huge remittances sent by Indians working in the Gulf countries. Many families who were marginalised are now better off. On the other hand, people from rich families who went to the US and other Western countries sent hardly anything back home. The differential wealth in society is being exploited by the radical groups for financial and political gains.
Q: FDI in retail was dubbed by the Congress as the 'Ram baan' to curb farmers' suicides, resolve poverty and unemployment. The BJP says it will displace more people from their homes and farms and destroy small shopkeepers. The people are confused.
A: FDI in retail is aimed at the upper and middle classes. Only rich people having cars and refrigerators can purchase large quantities of daily requirements and store them at home. But a large number of people still still buy flour, rice and oil on a daily basis. How will they survive?
Q: Do you expect any change in the political discourse once a new government comes into power?
A: The scams are a product of collusion between political parties and not by a single party or individual. The political class, bureaucrats and industrialists work hand in glove leading to the scams.
Q: TISS has been working in riot-affected areas. What is your assessment about the Muzaffarnagar riots?
A: Riots are created with specific targets: disturb the settlement, caste system, create a fear psychosis, communalise society. Riots seem to have an ideological orientation, but there is a financial reason too. Many people leave their homes and farms during the riots and these are grabbed by others. All the change in the societal order in the area favours the powerful people. The Muzaffarnagar riot is a similar story.