The Aam Aadmi party may not enjoy a strong network of activists and established voters' base in the city, but its candidate from Mumbai South-Central constituency, Sundar Balkrishnan, is confident that the Arvind Kejriwal-led out will emerge victorious, cashing in on the public anger against poor development. In an interview with dna's Eknath Makne, the 53-year-old, who headed a logistic company before joining the India Against Corruption in 2010 and later became an AAP member, threw more light on his campaign preparedness. Excerpts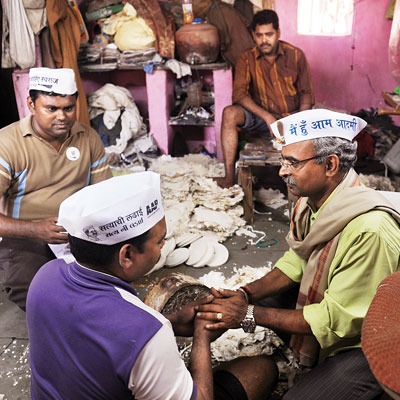 Neither you nor your party has any experience of contesting polls. It is said that one needs to be thick-skinned to get public works done through administration. How will you do justice to voters if they elect you responding to your promise of good governance?
Politics is not new to someone who used to be a part of the corporate world. As regards lack of experience in electoral politics, every leader or party is new in the beginning. But we are sure we will do justice to the voters.
Some of your rival candidates can be seen relying heavily on caste. What's your take on it?
Caste did play an important role in previous elections. But be it areas like Dharavi or Antop Hill, people are fed up of such politics. There is anger among the masses over lack of development. They will for development this time.
What do you think are failures of your opponents, especially Congress candidate Eknath Gaikwad and Shiv Sena nominee Rahul Shewale who have held public offices?
Dharavi has been a Congress bastion for years, but the locals have not seen sitting MP Gaikwad in the constituency. Shewale has been a four-time standing committee chairman in the BMC. But there is no developmental work on his part too. Also, not everybody knows him.
But that is the criticism your opponents level against you. They too feel you are not a known candidate.
When floated, AAP too was a lesser known outfit in Delhi. But it managed to win many seats during last year's assembly polls. We have a set of active and passive volunteers. Our volunteers are working with dedication to spread message unlike the paid supporters of other parties. It's not possible for me to reach out to everyone. But I have managed to cover 40 per cent of area doing door-to-door campaigning.
What are the problem areas in your constituency?
As an MP, one should think of national-level issues. But h/she should also oversee local issues. Here, the major issues are poor water supply, housing, sanitation, drainage and roads. Gaikwad should have had overseen these problems.
What are your plans to bring about changes?
If elected, we will strive towards introducing Swarajya model of governance, which involves the public in decision making. We will push for bringing in transparency in fund utilization. We will also look to provide homes of 450 sq ft size to slum dwellers and it is pretty feasible.