Compère Sudhir Gadgil interviewed Thackeray prior to the 2009 assembly polls. From his love of cartoons to the influence of his father and his hopes for son Uddhav, Thackeray opened up like never before.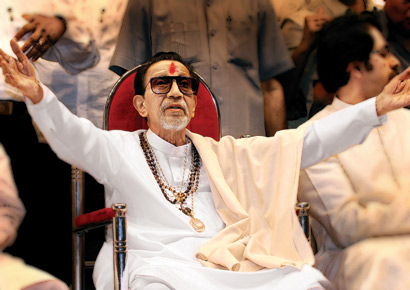 Compère Sudhir Gadgil interviewed Bal Thackeray prior to the 2009 assembly polls. From his love of cartoons to the influence of his father and his hopes for son Uddhav, Thackeray opened up like never before.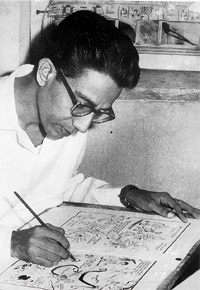 What made you take up the brush?
Well, from a very young age, I used to doodle on the walls. But my father, Prabhodhankar Thackeray (Keshav Sitaram Thackeray, fondly called as dada), wanted me to become a musician... but later he realised that I possessed qualities of a painter while my brother [Raj Thackeray's father, Shrikant] was the musician.
Who were your role models in cartooning?
Winston Churchill, Mahatma Gandhi, Narsimha Rao and Indira Gandhi to name a few.
Renowned cartoonist RK Laxman was working with you at Free Press Journal? How was your equation with him?
We both were good friends and never had any issues.
Marmik was a sweeping success? How true is it?
It was a sweeping success when I reduced its price from Re1 to 50 paise. The psyche of the Marathi manoos is to get anything for a lesser price, and if he gets it for free, it would be a
tremendous success.
When you decided to form the party (Shiv Sena), did you discuss with dada?
No, it was entirely my decision.
When the party was formed, it created a flutter. But it was your oratory skill that added to your success. Was it specially developed or an inborn quality?
It was an inherent gift from my father...
Your oration never was like a speech. It was more like a conversation. How did you manage?
Dada had said that strike a chord with the audience. He had said 'if people take a nap or they keep yawning or talking, it means it's time for you to go home and sleep'...

Who is carrying on the legacy?
I think Uddhav has got the qualities; he's carrying it on very well.
How did you strike a chord with the people?
I'd wandered the length and breadth of this state... I used to roam in a car as there were no chartered planes then. This gave me an edge.
From Marmik, you went on to form the political entity of Shiv Sena. While forming the Shiv Sena, what was the reaction of established political parties like Congress, Jansangh and others?
I did not even think about them. The reason I started was to propagate my art of cartoons... During those times, people started coming to me with complaints about their jobs. In Mumbai, there was no value for the Marathi manoos... It created a certain anger within me and I wanted to create the same in the people.
Who gave the name Shiv Sena?
Dada. He coined the name Shiv Sena.
Wasn't Thane where Sena first came to power?
Yes, Thane was where we first tasted victory. Thane gave us a lot of support, we must admit...
What's your analysis of the working of the Sena-BJP government which was in 1995?
The timeframe for us was little. But our work has been good. The flyovers, Mumbai-Pune expressway, Worli sea link were conceptualised during our time, and these projects were conceptualised on the basis of our experience...
I hear you are the only one in India who had drawn the life of Churchill in cartoons
Yes, I am the only one in India to do so.
What is your reading of the new leaders of the Shiv Sena?
Uddhav is working well and I am happy with it. My advice to the new leaders is that they understand why people have elected you. In case they have defeated the Congress, they must understand what people want and deliver the same.
What's your take on leaders educated abroad?
I find it perplexing that people educated abroad come to Maharashtra to rule over us. How will they understand the state and its problems if they do not have any connect with the state. I was asked to leave school (Orient High School) because I could not pay Rs60 as fees. I studied there up to standard VI. My parents were not able to pay fees so my schooling ended. But the education of ideals or morals continued at home.
Although Shiv Sainiks are there with you, some party leaders seem to have left the party... What is your reaction to this?
These things do not affect me at all. Their knives went blunt when they tried to stab me. Let them do what they want to do. They must remember Shiv Sena's touch is the Midas touch... Shiv Sainiks have made Shiv Sena big and I am happy they are with me.
Why did you decide to come out with Saamna?
Largely, it was to counter false allegations against me. Marmik was a weekly and to counter allegations of the dailies, I had to come out with a daily.
What do you think is the link between you and Shiv Sainiks?
I connect with them with the bond of love and I guess that is the difference between other political parties and the Shiv Sena.
Uddhav has been involved in the farmer movement for the past four years...
Although Mumbai cheated on us, rural Maharashtra stood by us. This is an example of their loyalty. Farmers have been severely neglected. Doesn't the voter understand that the things that Congress is promising now, why they could not give them before? Shouldn't they ask this question instead of voting blindly...
So, isn't the urban voter being left out then?
In Mumbai, the problem is that since Shiv Sena is in power in the municipal corporation, it has to bear the brunt of every small issue — gutters, potholes, slums etc, the blame is always on the BMC. What people don't take into consideration is the fact that we require support from the state to implement development measures. Thanks to the politics that they are playing, we are not allowed to implement any of our solutions. We started a drive to eradicate slums, and our workers and bulldozers were pelted with stones by slum-dwellers. When we asked for police protection, we were refused. The sealink, for which I had laid the foundation, was supposed to be a Rs 350-crore project and today it costs Rs1,600 crore and only up to Worli. Our plan was to make it till Nariman Point in the budget we had projected.
There has been a lot of criticism you have faced...
That's alright. I have been here for 43 years now and have answered all my critics and overcome all of them and I am still doing it.
What do you have to say about the criticism about your family disputes?
That is such a pointless allegation. I just spoke to this man who asked me how can we claim to run the state when our own house was in disarray. But when I cited the example of Sonia Gandhi and Menaka Gandhi; he was left with no words and changed the subject.
Does the caste and communal background not matter to you?
I don't care about a person's caste. You can see the Sena from grassroots up and find people of various castes. I hate the caste system, and I coined a phrase "Potala zaat naste, pan zaatila pot chiktavu naka" (Our stomachs don't have a caste, we should not attach our existence to the caste system).
Do you feel bad that even after you show your impartiality about caste and make fair choices — like voting for Pratibha Patil as president, irrespective of her party — you still face criticism for those decisions?
Pratibha Patil was a Maharashtrian first. A Marathi person deserved to be the president, and when the opportunity came up, I couldn't do otherwise. And, I haven't broken any understanding with the BJP as Mr Shekhawat was contesting independently. As far as the criticism is concerned, I have achieved a certain amount of immunity now.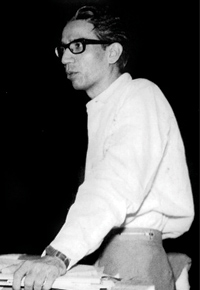 Why hasn't Shiv Sena been able to create a stronghold in the Vidarbha, Marathwada regions?
That region is dominated by a few strong and old families, and the Maratha spirit is pretty strong.
You are said to believe in 'brutocracy' more than democracy.
Where is democracy? The ballot boxes are manipulated and lots of votes are transferred and falsely attributed. It has been proven. When elections themselves are rigged, how can democracy stand by itself? Then why do you cry for democracy? So, I am for what you call 'brutocracy' only to discipline people and bring the real democracy back into the system. And for democracy to be brought back in its true spirit, these adverse means are necessary. As for me, I believe in shivshahi.
Sharad Pawar once used the metaphor of a jackfruit for you.
That's a compliment. Earlier, I would call Mr Pawar a sack of onions or a sack of maize. Pawar is very clever. He has a good hang of playing strategic games with you.
What do you say about people who leave some party and come to you?
They're welcome, yes, though they won't get higher positions just like that. They have to prove their mettle at the grassroots level and in terms of campaign, promotions and welfare to gain recognition through the party's system. Prakash Mahajan, Shweta... they are all working with their full strength without any expectations as yet.
Last question, do you feel a communication gap with respect to common man's problems reaching you or Uddhav?
That's not true. Uddhav is omnipresent and is doing work similar to what I did in my initial days. He works late, has no addictions and he does his work with extreme vigour. I can say that with confidence, because I see it happening.