Kumar Iyer, British deputy high commissioner (western India) and director general for UK trade and investment, was sent to India in July last year as part of the Cameron government's strategy to help more British firms do business in the region and attract more investment from India in Britain. Iyer spoke to dna's Kanchan Srivastava on a range of issues and challenges since Narendra Modi, who the UK government had boycotted for 11 years over the 2002 Gujarat riots, took over as prime minister.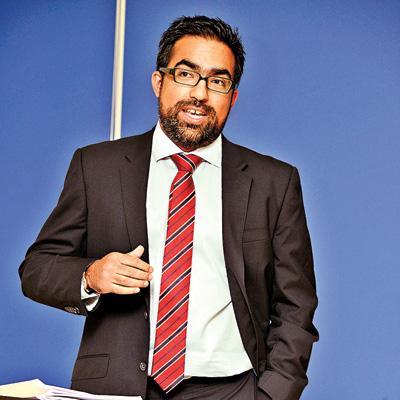 Q) India and UK's relationship has completed 400 years which have witnessed several ups and downs. How do you define this relationship?
The relationship is one of partnership and deep goodwill. We have strong business, academic and personal ties. For example, the UK is the single largest G20 investor in India and India invests more in the UK than in the rest of the European Union combined. India is the 5th largest investor in the UK. About 30,000 Indian students study there, and the British Council has a programme aiming towards 25,000 British students studying in India. Jointly funded research partnerships between India and the UK amount to more than £150 million.
Q) What is your strategy to boost bilateral trade?
The value of UK's goods and services trade with India had already reached £16.4 bn in 2013. In the next few months, the UK India Business Council will open brand new business centres in Delhi, Bangalore and Mumbai, followed by other cities.The financial sector, retail, advanced engineering and IT will be our prime focus.
Q) UK's stricter visa norms which abolished post study work visas introduced by the conservative government two years ago has also led to a decline in the number of Indian students going to UK. A proposal for a visa bond, which was withdrawn later, also raised concern.
I want to clarify that there would never be any bond for Indians for UK visas. We are not restricting Indian immigrants either, which is obvious from the fact that the 90 per cent of the visa applications are approved. We are issuing close to 500,000 visas from India every year, which is UK's largest visa operation across the world. Work visas for students are also available for highly skilled scholars. We just tried to check the fake universities attended by many Indians and inflow of non-graduates.
Q) Chancellor George Osborne who came to India last month to meet the prime minster had announced an in increase the number of scholarships for Indian students. Have you finalised the scheme?
Yes, we are expanding our flagship Chevening Scholarship programme, now in its 30th year, and one of the largest in the world. In 2015-16, the Chevening budget for India will increase to four times of what it is now – £2.4million for over 150 Indian scholars. This year we are also offering 500 GREAT Awards to Indian students for undergraduate and postgraduate courses ranging from engineering, law and business to art and design. In addition, up to 700 scholarships are offered to Indians by UK institutions each year.
Q) Is it more challenging for you to deal with the new government led by Narendra Modi especially since you have boycotted him for 11 years?
I had met Mr Modi and finance minister Arun Jaitley last month in Delhi. They met us with warmth and great enthusiasm. We are hoping for a boost in bilateral relations and trade.
Q) Two of the three UK deputy high commissioners posted in India are of Indian origin. Does it help you to connect better?
This is a natural reflection of the multicultural nature of the UK where Indian origin people form 4.6 per cent of the population. I am fortunate to have had a very warm welcome and been able to forge good relationships especially in the business, academic, arts and culture and social communities. Being able to watch and understand Hindi and Tamil films is definitely a bonus!