Having served Indian Administrative Services (IAS) for 42 years, a week before she retires from the post of state election commissioner, Neela Satyanarayana, in an exclusive interview to dna's Naziya Alvi Rahman, expressed her utter disappointment over the growing political interference in the working of bureaucracy. The 1972 batch officer has had the honour of becoming the state's first ever woman EC, first ever woman to head prestigious departments — revenue, publicity and ports. It, however, took her 20 years to rise above the gender discrimination in the heavily male-dominated system. In her initial years of service, on several occasions, she had to buy time from seniors to prove to be as good as her male counterparts to hold on to her post. Satyanarayana is also a noted Marathi poet and writer. Excerpts: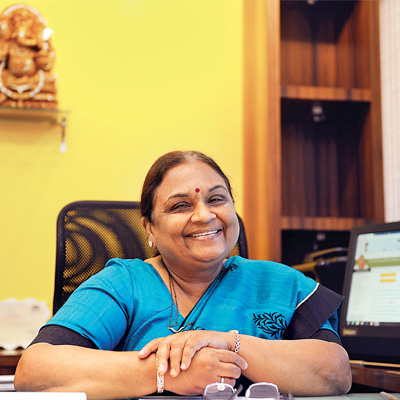 In your 42-year-long career, you have served crucial departments, such as revenue, home, food and civil supplies. How do you think we can make our system more efficient?
The most important thing is to have officers with a strong inclination to serve the nation. This one quality in bureaucrats can really change the way our system functions. These days people are mostly interested in bureaucracy to get power and money. Also, the lack of courage in the current bureaucrats to stand by their decision without succumbing to political pressure has disturbed the administrative system, resulting in corruption and scams.
Did you not face political interference during your tenure? If yes, how did you handle it?
Of course I did, as much as any other bureaucrat. But I did not change my stand... And, as a consequence, I faced frequent transfers and difficult postings, but that did not rattle me.
Can you state an example?
In the 90s, when I was serving as textile secretary, I had put my foot down to have a policy that looks into the rehabilitation of workers of textile mills on the verge of shutdown then. However, the political lobby was more focused on land deals. The face-off soon resulted in my transfer from the department.
You had the honor of becoming the state's first woman EC as well as head of prestigious departments. How did you manage to overcome the so-called gender bias that most women officers in your time complained of?
It did not come to me easily. After facing it for the first 20 years in service, my work probably convinced senior bureaucrats and politicians that I am as capable as my male counterparts. In those days, women officers were only given postings in soft departments like social welfare, health and education.
Can you share an instance with us?
Well, quite early in my career, I was posted in the medical education department. Soon, I started hearing rumours about my male colleagues being uncomfortable with the idea of having me there and, hence, I might be transferred out soon. I immediately rushed to my senior and asked him to allow me to continue for a month and take the decision to transfer me on the basis of my performance. As a result, I continued in the department for the next two years. However, there were a few merits of being a woman officer too. For instance, I would not be sent to remote areas. Actually, the system then was not prepared for women officers. In my batch, there was only one other woman officer. We had to struggle to even find a ladies washroom in Mantralya in those days.
Your final posting was as state election commissioner. Election Commission is an autonomous body. How was it different?
Being in EC shows you another side of the system, which is a new learning experience. In my tenure here, there is a lot that I tried to do to improve. The most important of all was to make the system more voter-friendly by reducing the number of voters per booth from 1,200 to 800, hence, increasing the number of booths per ward. We also launched an active voter-friendly website.
You are set to retire on July 5. How have you planned life ahead?
There are too many plans. I am in talks with a group of like-minded people to hold workshops for UPSC aspirants to prepare them for the system, give them training in English, and build their confidence and morale. Then, I intend to give more time to my writing. My two published books in Marathi need to be translated in English. I am working on a book on parenting, which will be out soon.