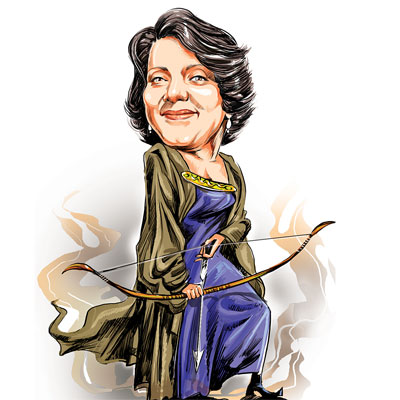 Meera Sanyal, the Aam Aadmi Party (AAP) candidate for Mumbai South constituency, is pitted against political bigwigs like sitting Congress MP Milind Deora, MNS leader Bala Nandgaonkar and the Shiv Sena's Arvind Sawant. Though she had unsuccessfully contested the 2009 election as an Independent candidate, this time the 52-year-old former banker is confident of her victory. In an interview with dna's Ashutosh Shukla, Sanyal says freeing up over 730 acres of Mumbai Port Trust land is her main campaign issue. Excerpts:
A prominent accusation against you is that you disappeared after the last elections. Your comments.
I was on a sabbatical when I fought the 2009 election. In fact, I should be thankful to my former boss who told me that I can quit if I win the election. He allowed me to take a sabbatical. So, I went back to my job after the last poll. I have done a lot of social work that have helped women get sustainable livelihood and make them empowered.
What is your vision for the constituency?
My vision is simple. It is to make the city gainful and productive in terms of employment, be able to provide a decent standard of living. By this I mean providing for things that are taken for granted like better toilets, high quality affordable education and housing, pedestrian and handicapped friendly city, high quality health care, coastal transport that was there until 1995 and above all an inclusive city. The people of this city are entrepreneurial. Mumbai is a heart of commercial activity and the young can make it into a silicon valley of services not just in IT but traditional services banking and finance, marketing, advertising and film making. We need to make that work.
These are the very promises that have been around for years.
They are but they have not been solved which is why they still exist.
Regionalism and religion have been strong factors deciding voting patterns. How are you convincing the voters to vote for AAP?
We have never played identity politics. There are much bigger issues with which people are harassed that we talk about. These are corruption, inflation, future of children, affordable housing, transport and open spaces. We try to reach out to them through these.
What are the prominent issues your constituency is facing?
Quality of life has deteriorated. Quality hospitals and educational institutions are few. The main cause is that we do not have land. There are two ways to deal with it in an island city. Either we can reclaim or efficiently use the available land. Reclaiming will have a lot of environmental concerns. Mill lands have already been usurped. The way is to get Mumbai Port Trust land back. It is my main election issue. After JNPT, it was none other than late prime minister Indira Gandhi's directive in 1998 that the land be given back to the city. They are not adhering to her directive. Mumbai is no more an industrial but a service oriented city. The city does not need a ship container terminal.
You have taken up the issue of Mumbai Port Trust land strongly. Why?
This is an issue the south Mumbai MP should have been raising because the land comes in his constituency and he is also the minister. The issue is important because the land can be encroached. The land can provide space for recreation, better and affordable housing among others. Instead they are talking of increasing the capacity. Trucks will be going to the hinterland. They want to dredge the place that will waste taxpayers' money. There is coal stacked there like it is in Jamshedpur. Carcogenic material spills into water. People's health is getting affected. There is an exponential rise in TB and lung diseases. This is something both Milind Deora and Bala Nandgaonkar should have looked.
If you are elected, how soon can you deal with all the issues you have taken up.
You have to get the Mumbai Port Trust land back. The land can be given to the city even today. Once the land is given to the city, problems of the city can be solved in five to 10 years. Planning bodies like Urban Design Research Institute (UDRI) can be roped in for better and efficient use of land for schools, hospitals, affordable housing, open spaces etc.
AAP has been facing a fund crunch. How much has it affected your campaign? What is likely to be your campaign expense?
There is a fund crunch but we are doing with what we have. We have this concept of sister constituency where we share the funds with other candidates of our party. With respect to my expense, I can tell you it will be a fraction of the Rs70 lakh one is allowed to spend.
Do you see loosing previous election as a drawback?
Not at all. In fact, I am winning this time.