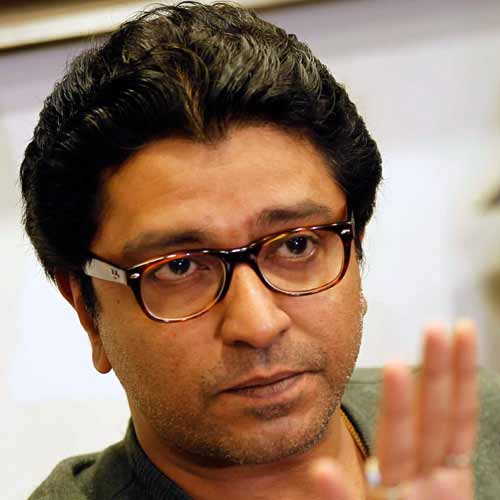 Since the formation of Maharashtra in 1960, the state with a population of over 10 crore and a vast land mass, has not seen much development barring the Mumbai-Pune-Nashik industrial corridor. Why?
The reason is that the state never had a visionary leader. People talk of the power and capabilities of Sharad Pawar. But except for his home turf Baramati, he has done very little for the development of the state. His vision is limited to Baramati. If you have a vision, it should extend to the entire state and not be confined to only one constituency. One should not be interested only in making money. As for the development of Mumbai, the problem is that most of our chief ministers are from interior Maharashtra and they are not familiar with the problems confronting the city. Only someone born here will understand the problems of the metropolis.
How come the MNS is contesting only 10 seats in the LS polls?
There is no point in fielding candidates just for the heck of it. The important thing is to win elections. We have given tickets to 10 activists all of whom have a chance of winning. There is no doubt about that. But I find that even more than six decades after getting Independence, the issues during the elections continue to be the same. We still see candidates promising electricity, roads, etc. When will these things change? Many of our leaders go abroad... don't they see the tremendous advancement in these countries. In India, we are still clamouring for basic necessities.
It is said the MNS is splitting Marathi votes which is helping the Congress-NCP alliance.
This is total nonsense. What about constituencies where the Shiv Sena has won? This is a canard being spread by vested interests to spoil the image of the MNS. Lakhs of youths, who are going to vote for the first time in the election, are flocking to the MNS. How are we to be blamed for it? They find the MNS an attractive proposition. They are not interested in caste, but in rapid development.
You had publicly criticised Narendra Modi, but now you are supporting him for prime ministership. Why did you change your stand?
I never criticised Modi. All I said was that Modi cannot be a chief minister and still nurse prime ministerial ambitions. I only suggested that he should resign as the chief minister and then stake his claim to be prime minister. When you are a national leader, you should not be identified with only one state. What is wrong with that opinion? Modi himself has not objected to my remark, so why should Rajnath Singh or anybody else have any objection?
What about the controversy over BJP's Nitin Gadkari wanting to form an alliance between the BJP, Shiv Sena and MNS?
Frankly speaking, I myself don't know why there was such a controversy. I did not go to Gadkari... he came to me. I guess when he comes to have ice-cream at Shivaji Park, he drops in at my place! Jokes apart, I personally hold Gadkari in high regard. As minister for PWD in the Shiv Sena-BJP government, he successfully undertook several infrastructure projects, including the prestigious Mumbai-Pune Expressway, and a slew of flyovers. As for reports about an alliance of the MNS with the BJP and Shiv Sena, there is no truth in them.
Will MNS be going alone in the assembly elections later this year?
Of course. We might not contest all the seats, but we will certainly field candidates in a majority of them. Just wait and see what happens.
What is your expectation from Modi?
I hope he only concentrates on the states of Uttar Pradesh, Bihar and Jharkhand and ensures their development. This will stop the influx of thousands of migrants into Mumbai. Some people talk of the so-called development of Bihar under Nitish Kumar. This is utter nonsense. Tell me which big industry has Nitish brought into Bihar?

What do you have against migrants? After all, they also contribute to the economy of the city.
What contribution are you talking about? Are they doing us a favour by working here? Forty-eight train loads of people come into Mumbai daily. How are we going to accommodate all of them? The infrastructure is collapsing and massive encroachment of public land is taking place because of that. There is massive corruption involved. I am not saying kick out the slum-dwellers. You can rehabilitate them. Let us have cluster development.
What will you do if you become chief minister?
(He flashes a copy of the Inter-state Migrant Workmen Act, 1979). I will implement this law which regulates inter-state migration. There should be restriction on migration. Some people may criticise me for that. But the future generations will see the merit in my argument.
The Shiv Sena has accused you of backstabbing Bal Thackeray even though he treated you as his son.
If I was a backstabber, why did Balasaheb speak to me almost daily? Why did he call me to Matoshree often? When Uddhav was in Lilavati Hospital, why did Balasaheb call me and ask me to be by my cousin's side? Saheb used to eat food brought by me. Why did he do that? Because I was a backstabber? Nothing can be farther from the truth. My statement about my seeing batata wadas in front of Saheb was totally distorted. As a cartoonist, I go into details. In any case, I do not wish to discuss this issue.
Have you not taken a huge political risk by openly opposing the Chhatrapati Shivaji memorial across the coast off Mumbai?
I am totally against the squandering away of hundreds of crores of rupees on these so-called memorials. Why do you want a statue in the sea, when most of the forts built by Shivaji are in bad shape? Instead of building a memorial for Dr Babasaheb Ambedkar on Indu Mills land, I would suggest that the world's largest library is built on that land. Memorials should be meaningful to people That is why I am opposed to the building of a memorial even for Balasaheb (which is being done by the Shiv Sena) and the Sardar Patel statue being planned by Modi.