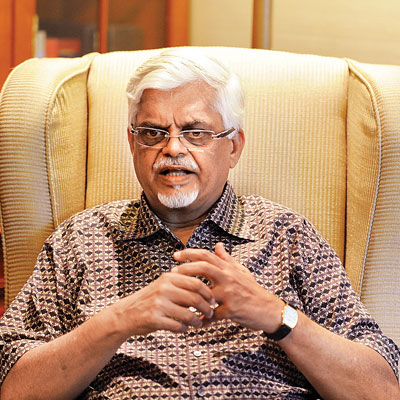 Controversy is good for book sales. No wonder, Sanjaya Baru and his publishers are happy at the storm over The Accidental Prime Minister.
Baru's memoirs of his years as media adviser to prime minister Manmohan Singh is sold out, unavailable even on Flipkart. But Baru is definitely 'unhappy' at being 'attacked" by the PMO. After all, he and Singh have been very close and until January this year, he would write the latter's speeches. He'd even told Singh about the book when they met in December, 2013 — the PM did not react, he says.
History will be kinder to Singh as a result of this book, and he cannot imagine anyone writing a stronger defence of Singh's prime ministership, he tells dna's Gargi Gupta in an interview. Edited excerpts:
Q: Your book has stirred up quite a storm...
A: I didn't expect there'd be such a surge of interest. But the PMO statement on Friday took everyone by surprise. Within one hour every TV channel was after me. My phone did not stop ringing. I think the PMO's reaction was premature. I don't think the book would have made such an impact but for the reaction. My publishers thank the PMO for it.
Q: The book's timing, in the middle of general elections, has been criticised...
A: I told my publisher I wanted it to come out afterwards. But my publishers prevailed on me to get the book out now. Their judgement was that once elections are over nobody will buy this book, particularly because it is pro-Manmohan Singh and the whole mood in the country is so anti-Manmohan Singh.
Q: Did you meet the PM as you were writing the book, or speak to him about it?
A: No, I stopped seeing him. Once in a while I would get a call from his office asking me to write speeches. I had continued to write speeches even after I left the PMO. My last speech for him was the last press conference, January 3.
Q: You didn't tell him about the book?
A: I told him on December 30 [2013], the day I went to see him about that speech. I wanted him to know from me. By that time, we had decided to put out the book around this time. It was also around that time that Singh had announced his retirement. Actually, that's what changed my decision to publish the book now.
Q: What did he say? Did he want to see a draft?
A: He didn't say anything. I too didn't offer to show it to him.
Q: Your book has become a stick for the BJP to beat the Congress with. Do you regret that?
A: That's a political battle between the Congress and the BJP. But for the Congress to attack me — Digvijay Singh today [Monday] said that Narendra Modi funded my book. Irony is that Digvijay is a personal friend and whenever he wanted to meet Singh, I used to fix his appointments.
Q: You've said you gave him the book about a week ago. Did the PM read the book?
A: No idea.
Q: Many people in the PMO feel that the PM knew what was in the book and that this was the only way to get things straight
A: I would imagine that those who want to defend the PM can use my book. But there was no consultation between him and me. Not at all. I did not discuss the contents of the book with anyone except my editors and my father. Not even my wife.
Q: Has he called you since?
A: He hasn't. When I was giving the book, I said I would be happy to meet him after he finishes reading it.
Q: Singh had said in his January press conference that he hoped history would be kinder to him. Would you admit that your book will ensure history is kinder to him?
A: I not only admit, I would even claim this is the strongest defence of the MMS prime ministership that will ever be written. If somebody can write a stronger defence let him write it and show me.
Q: Why then do you think the PMO has objected so strongly?
A: Politically, the Congress party would not like this reality of this dual power centre to come out. Or for me to have confirmed it.
Q: Why did Singh not contest the 2009 elections? That you mention was where his downfall began.
A: I regard that as his single biggest mistake. He should have contested. He could easily have contested from Assam and Amritsar and he would have won from both places. The roots of the entire tragedy of UPA-II, in my judgement, go back to his decision to remain in the Rajya Sabha.