Dharavi is the largest slum in South Asia. A statement like this creates an image in our minds. One expects children to be loitering around on streets lined with shabby walls and closely packed buildings with dingy rooms. It evokes a kind of hopelessness for the future of these kids. A visit to the Dharavi ART ROOM's Facebook page, however, shatters these preconceived notions.
The Dharavi ART ROOM describes itself as "a space in Dharavi for the community to explore issues through the artistic medium. It is a place of expression through art targeting youth. It work[s] as a resource centre, display space for art, and a lab for art to be created."
This sums up the entire initiative. The page is bustling with happy pictures of children colouring the "shabby walls" of the slums, with shades as vibrant as the rainbow, of kids clicking photographs with second-hand cameras donated by anonymous people, of them creating art and grinning back at the camera.
Welcome to the Dharavi ART ROOM. It will put a smile on your face.
Dharavi ART ROOM was started by Himanshu S, an alumnus of the JJ School of Art, about eight years ago. While visiting a friend's house in Dharavi, he realised the change that art could bring to the area. Currently, he and Akki, a student of the Tata Institute of Social Sciences (TISS), conduct photography and art workshops for these children in Dharavi and seven other schools. Puneet Kaur has a chat with him:
What do you think is the role of art in a child's life?
We at the ART ROOM believe that art is one of the strongest mediums of expressions. It can be done via photographs, paintings, art, and craft, anything that the child is comfortable with.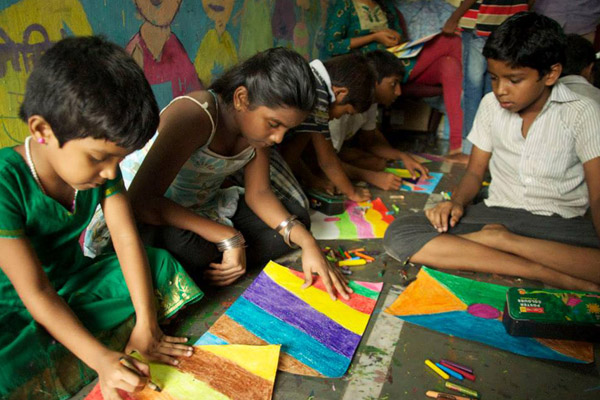 What is the aim behind this project?
After the success of Slumdog Millionaire, the slums of Dharavi did get some attention from its own city, but it was always from the point of view of an outsider. People would come, conduct their surveys and research, and present what they thought about the place. We want the kids to be able to express and show the world what Dharavi means to them. We want to showcase the perspective of the Dharavi-wallahs (Dharavi-dwellers) about themselves.
How do you plan to help children with this initiative? Do you aim to make them self sufficient through these workshops?
Well, we try to teach the children as much as we can, and hope that some of them will take it up further after completing their Class 10. Recently, one of the children got a DSLR by a person who saw his work and wanted him to pursue it further professionally. Such gestures motivate the kids a lot. Right now, we are planning to launch a basti akhbaar, like a local newspaper where we can print their work and circulate it. This gives children their own space to express themselves. It also keeps them away from abusive language, it keeps their mind off such things.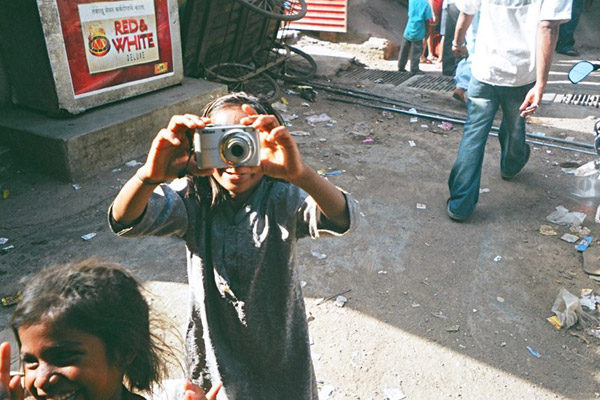 What was the families' response like?
The families were reluctant in the beginning. They were not sure about the prospects of the initiative. The usual question was, 'Iska kya faida?'. But with time they have opened up. In fact, they willingly send their children here. As a sign of support, the parents come for the exhibitions that we organise where we display their children's work.
What is your schedule like?
We are currently working with seven BMC schools, in Worli, Prabha Devi, Lower Parel, and Dharavi. We try to cover at least two schools every day, working all seven days of the week. We organise photography and art workshops in these schools. At times we have friends coming in and volunteering, which is also a change for the children as they get to see a new person. We are also working with Muktangan, an NGO which focuses on child education. It is a CSR initiative by Paragon.
What has the experience been like for you?
Initially, when we had just started the project, the workshops were a little irregular because of limited funds and resources. Over the past three to four years, we have become regular with the workshops and plan to expand them. We plan to get in touch with more schools and see how it goes.
The Dharavi ART ROOM will hold a street exhibition of photographs taken by the children they have worked with on January 25 (Saturday) and 26 (Sunday). Venue: The lane next to the bus stop opposite Holy Family Hospital, Hill Road, Bandra (West).