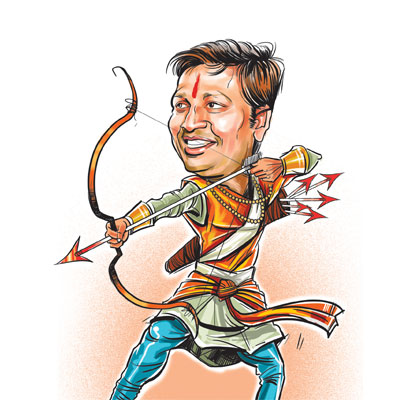 Chief of the BJP's Mumbai unit MLC Ashish Shelar faces the task of taking on the ruling Congress and NCP in the six seats in Mumbai in a fragmented and divided polity. In the 2009 polls, the presence of the Raj Thackeray-led MNS in the fray contributed to the defeat of the saffron alliance in five of the six constituencies, making it draw a blank.
This time, though Shiv Sena and BJP have managed to rope in Dalit leader Ramdas Athavale, whose Republican Party of India (A) enjoys a formidable support in the metropolis, it still has to contend with MNS and AAP, apart from internal wranglings in the alliance.
However, speaking to dna's Dhaval Kulkarni, Shelar feels that the purported poor performance of the city's MPs and public support for BJP's prime ministerial nominee Narendra Modi may help them make a clean sweep in Mumbai. Shelar also claims that despite Raj's support for Modi, the people will prefer supporting Modi directly instead of through MNS.
Excerpts:
In the 2009 Lok Sabha elections, Shiv Sena and BJP lost all seats in Mumbai. What will the situation be like in these elections?
We will sweep the elections with a 6-0 score.
There are reports of disagreements between Shiv Sena and BJP, which may affect their fortunes.
It depends on who is saying this. It is natural for the opposition to make such insinuations, but the reality is different. While (Yuva Sena chief) Aaditya Thackeray campaigned for (BJP North-Central Mumbai nominee and late BJP leader Pramod Mahajan's daughter) Poonam Mahajan, (leader of the opposition in the state legislative council and BJP leader) Vinod Tawade canvassed for Sena's Gajanan Kirtikar in Mumbai North-West. This is the situation in the seats in Mumbai. The leaders and workers of both parties held a conclave a few days ago and activists of both parties are involved in campaign padayatras.
Which are the local issues that your campaign is focussing on?
In the last five years, the six Congress and NCP MPs from Mumbai did little for the city and its problems. They were unable to get new schemes for Mumbai from the Centre. They are focussing only on their work in constructing toilets and laying tiles. Mumbai also has a minister at the Centre (Milind Deora). In spite of this, there is little new on the plate for Mumbai. They have discriminated against Mumbai. We are going to the people on these issues. There is no governance and there is a leadership crisis at the Centre. Our leadership is better on these issues. We are banking on Narendra Modi's work and leadership.
What will be the impact of AAP in Mumbai?
I feel AAP will have no special impact. They will eat into Congress votes.
In the 2009 elections, Shiv Sena and BJP lost in five of the six seats in Mumbai largely due to MNS dividing the saffron votes. How will the situation be different this time? Moreover, Raj has also declared his support to Modi as the PM.
They lack focus and direction. There is no visible impact of their campaign in these circumstances. Instead of giving their money to an agent, people will directly deposit it in the bank. If they want to support Modi, they will do it directly and not through anybody.
What can the city expect in event of a BJP-led NDA government being elected at the Centre?
BJP has published its manifesto. We will focus on good governance, peoples public-private partnership and citizen-centric formulas.