When the results come out on Friday, BJP general secretary in-charge of UP will be the centre of attention in Uttar Pradesh. But, his battle does not end on Friday. Confident of a "grand victory", he is now bracing for the 2017 assembly elections. In an interview with dna's Amita Shah, he says Gujarat will continue to get Narendra Modi's guidance in the event of him moving to Delhi.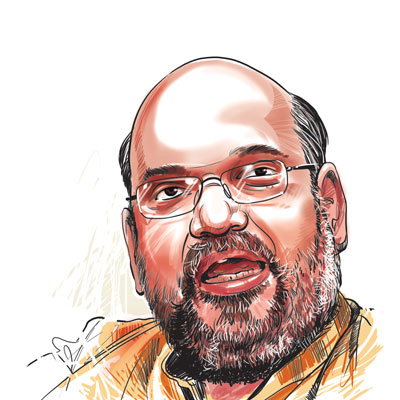 What was the biggest challenge you faced in UP?
We had to strengthen the organisation and set up booth committees. We managed to form committees in 76% of the booths.
How did you deal with the caste equations in the state?
In a large parts of the state there are areas where there is no reach of media — either newspapers or television. In villages we were doing door to door campaign but along with that we had 450 video vans which went to almost every village in the state showing Modi's speeches. We distributed leaflets and made a list of BJP supporters and gave it to the party workers. This helped us to break the caste barriers and we managed to convey Modi's message to every village.
Do you see this having a long-term impact?
Yes. The booth committees have been set up and details of booth workers are available with the party offices at the district and state level. We have succeeded in creating a permanent structure of BJP in the state.
What was the reason behind Modi contesting from Varanasi?
There were two reasons. Modi fighting from the Hindi belt would help in that region. Besides, choosing Varanasi would benefit BJP in both UP and Bihar.
You have said BJP workers were emotional...
Every region has its own political tradition. UP is a state where even conservatively if you look 42% voters are affiliated to some or other party. My fight was confined to the remaining 58% which it made it difficult. We haven't fought the panchayat polls there for 12 years. The organisational structure had also crumbled. In four-cornered contests all four parties fought with fervour. From 1998 till today there has been a deteriorating voting pattern and our vote bank was shrinking. In such a situation our workers worked very hard...that's why we are hoping for a good result.
Did caste-based politics hurt party in UP?
In UP caste politics held its ground. I think people also got weary of such politics because there is hardly any development, law and order situation has deteriorated, investment is low, there is unemployment, women are unsafe, there is no improvement in agriculture. Amidst this, Modiji's wave and him being the party's prime ministerial candidate created a favorable environment for the BJP. It laid down the foundation and helped in turning votes in our favour.
Did the BJP capitalise on Modi's OBC status?
This is not true. This issue arose when Priyanka Vadra spoke about 'neech rajiniti'. We never raised this issue except to reply to Vadra. We don't want to pursue caste-based politics. Victory and loss do not depend on one reason..there are many many other reasons and their cumulative effect..but this time we are approaching towards a grand victory.
Will Modi retain Varanasi seat?
I don't know which seat he will he retain. We haven't decided. UP is our responsibility. I am in-charge. I will keep an eye on UP.
If Modi moves to Delhi, will the next CM find it difficult to step into his shoes?
In Gujarat BJP is strong. Our administration is strong. It has reached booth level. Gujarat has a history and tradition of strong administration. In Gujarat there are people who work diligently. And Modi is not leaving the country. Gujarat will keep getting his guidance.
There is a group in the country opposed to Modi...
Because of years of well designed propaganda, there is a gap. I believe that when our government runs for five years such misinformation about us will prove wrong. Our work will prove them wrong and this barrier will break.
Are you now targeting the assembly polls in UP?
Preparation for Lok Sabha polls in UP has prepared ground for assembly polls also. We have finished most of the work for the assembly polls. Mandate at the Centre will galvanizes the workers. We will reap its benefits in assembly polls.
The BJP has been accused of polarisation in UP.
The Congress candidate on his banner had image of Kashi Viswanath temple. What do you say to that. I am not against it..neither did we lodge a complaint. In Ayodhya, there will be photographs of Ram Mandir, in Delhi those of Qutab Minar, in Agra Taj Mahal. This is not a communal issue.