03:57 pm
According to DNA reporter Amberish Diwanji, the 3rd, 4th and 5th floors have been gutted while one portion of the 6ht floor is on fire.
03:58 pm
According to reports, 60 people are feared trapped inside the Mantralaya. 25 fire engines have rushed to douse the flames.
04:00 pm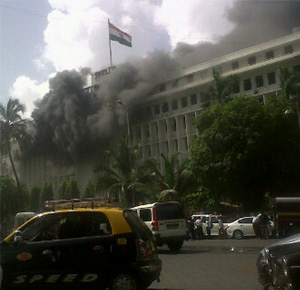 Pic tweeted by @zubinnalawalla


04:04 pm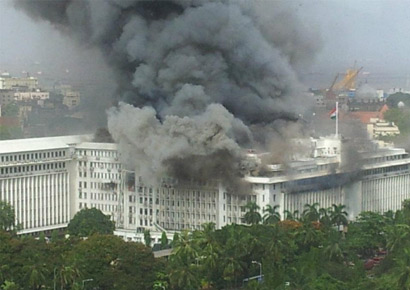 Pic tweeted by @AartiMadan
04:06 pm
According to ANI, many important files, including those related to the Adarsh housing scam, are kept on the fourth floor of the secretariat.
The fire has now spread to the fifth and sixth floors of the building. Alt least 20 people are trapped in the sixth floor.
No casualties have been reported so far, and the building is now being evacuated.
DNA correspondent says the western part of 4th, 5th and 6th floor is gutted.
04:10 pm
The fire has spread to Chief Minister Prithviraj Chavan's 6th floor office.
04:13 pm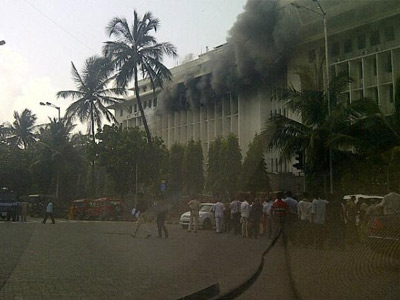 Pic tweeted by @legalzulfi

04:18 pm
Emergency teams have reached the spot and rescue efforts are on. Firefighters are battling flames as fire spreads to upper floors.
04:23 pm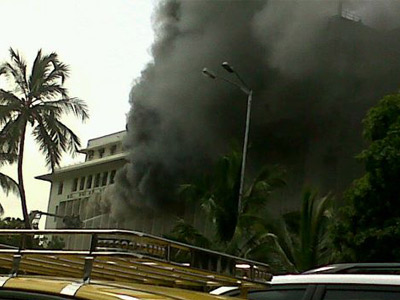 Pic tweeted by @subjudiced

04:24 pm
DNA correspondent Shubhangi Khapre reports that the fire is not in control and is still spreading.
04:24 pm
The offices on the 6th and the 7th floor along with the deputy CM's office are on fire. The fire brigades reached in time but they did not have enough ladders.
04:29 pm
Shubhangi Khapre reports:

The fire officials said that there was wood work and inflammable material like files and paapers.

Manu Kumar, urban development secretary, confirmed that the fourth floor was on fire.
There is still no definite number on how many have been injured but there are 2 ambulances that are carrying out rescue operations. There was an irrigation meeting that took place, the document relating to which, were kept on the 5th floor of the Mantralaya. Manu Kumar also confirmed that the Adarsh housing scam files were kept on the fourth floor.
04:40 pm
Amberish Diwanji reports:

Fire still not under control. CM, Dy CM, Chief secretary's offices gutted. Floors 4, 5, 6 and 7 in flames
04:44 pm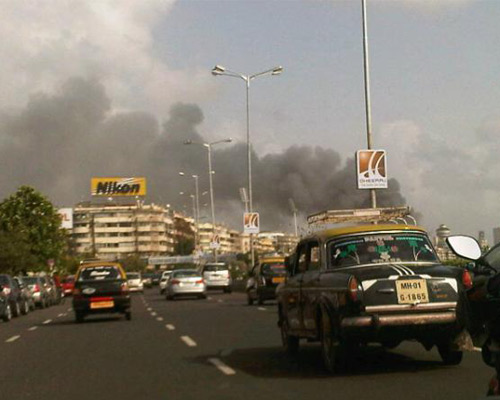 Pic tweeted by @Rohan_22
The fire as seen from Chowpatty

04:48 pm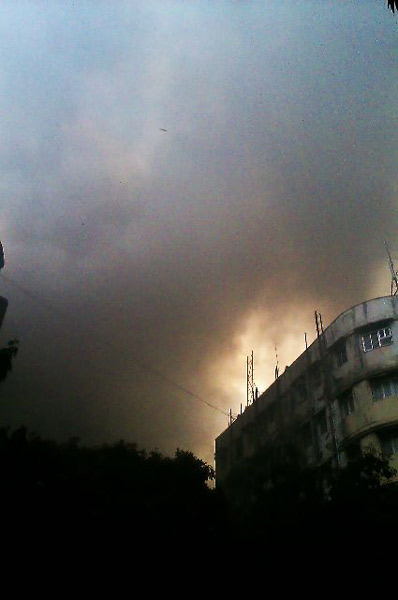 Pic tweeted by @Smitz586

04:50 pm
According to PTI:

Contingents of the state's elite commando squad Force One and Mumbai police's Quick Response Team has arrived at the spot amid reports that some people were still trapped on the terrace of the Mantralaya.
04:51 pm
The Navy has been called in for rescue efforts, reports a DNA correspondent.
04:54 pm
Zee News reports:

Many people were seeing dangerously clinging to the parapets on the 5th and 6th floor, trying to escape from the raging inferno.

TV visuals showed some of them trying to slide down pipes and wires, putting their lives at risk. As per some reports, many Mantralaya employees are stuck on the roof of the building even as fire officials are putting in their best efforts to save them.

Indian Navy commandoes have also been pressed into the rescue operation. Specialist Marine Commandos have arrived with specialist equipment, reports claimed.
04:57 pm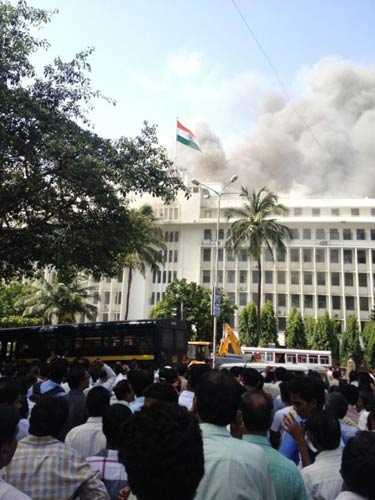 Pic tweeted by @dsbedi

05:02 pm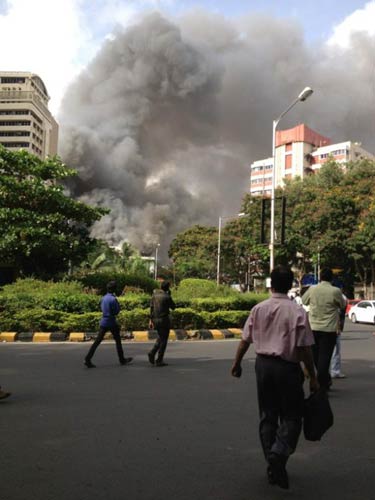 Pic tweeted by @footloosealways

05:05 pm
Three injured people have been taken to JJ Hospital and another 3 to GT hospital. One of the 4 who have been taken to St George's Hospital is critical while all others are stable
05:11 pm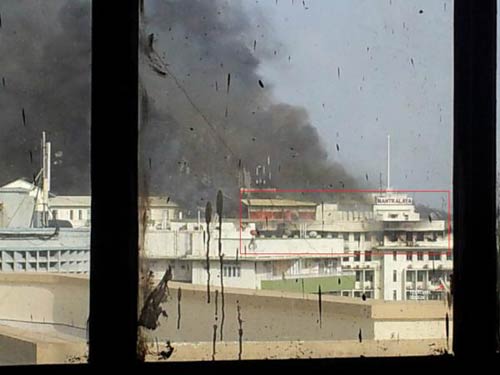 Pic tweeted by @desai_apeksha
View from LIC building
05:18 pm
TV reports suggest all trapped have been rescued.
05:22 pm
@jitengajaria: Spoken to atleast 10 journos covering Mantralaya and 15 employed with Mantralaya. No on convinced about short circuit. They were inside.
05:23 pm
@ShivAroor: Indian Navy deploys one Sea King and one Chetak chopper for rescue at Mantralaya fire. Marine Commando team on standby too.

05:23 pm
@MiLOKMAT: Mantralaya Roads leading to mantralya blocked and JJ flyover in Mumbai is also closed
05:30 pm
CBI have told CNN IBN that all Adarsh files are safe and in their possession.
05:31 pm
Shubhangi Khapre reports that among the many rescued, 2 are unconcious and serious.
06:01 pm
Maharashtra government has confirmed that all people trapped in Mantralaya have been safely rescued.
Firefighters are still batlling the blaze.
06:13 pm
TV reports show that fire is still on and additional reinforcements have arrived to get the fire under control.
08:08 pm
Maharashtra Chief Minister Prithviraj Chavan, on Thursday evening, in his first reaction to the fire, said that 65 people were rescued while one person was seriously injured.
08:09 pm
Saying that ministers would work from alternative offices, the CM mentioned that the city Crime Branch would probe the incident.
He said that a structural audit, which would be recorded on video, would take place on Friday.
10:15 pm
Two bodies were recovered on Thursday night after a major fire broke out in the Maharashtra state secretariat 'Mantralaya' in the afternoon.
The bodies were recovered from the 6th floor of the building.