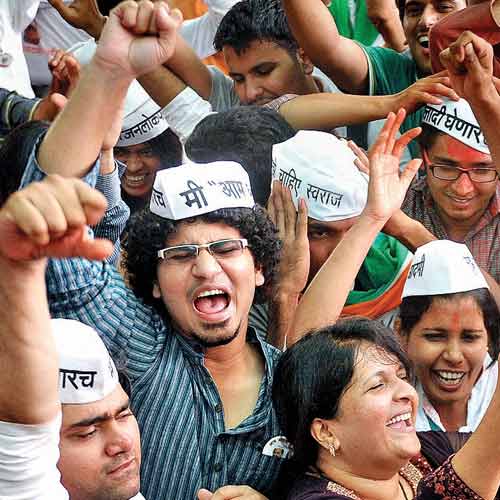 We lost the first ODI against South Africa last week. India was trounced. Skipper MS Dhoni was the first to admit that on the New Wanderers wicket, the bowlers shouldn't have conceded in excess of 350. "Bowling department let us down. If you give away more than
350 runs, batsmen will be under pressure. On wickets like these, we will find it difficult to score freely," the skipper said when asked about his assessment and analysis in the post match ceremony. Questioned on the lack of preparation for this kind of surface coming from the sub-continental featherbeds, Dhoni defended the decision to arrive late. "We knew we had two to three days but we could have adapted slightly better."
Imagine if Dhoni had said, "I think the surface was new. Inexperienced and young players like Quinton de Kock got lucky and he scored well. But my advice to him as a more senior player is that he must remember that a test match is very different from a one dayer." What would you have called Dhoni? Arrogant? May be. A sore loser? Surely. This is exactly how our political leaders came across on Sunday when they were asked to comment on the performance of their party vis-à-vis their rivals. The bad news is that even the winning party spokespersons were no less.
It was both amazing and amusing to watch the live results of assembly elections of the four states yesterday. It was amazing to see a historic moment in the making where a debutant political party, AAP, managed to exceed perhaps its own expectations at the number of seats it won in Delhi, managing to give even a solid, established national player like BJP some very anxious moments.
It was amusing because none of the party spokespersons, be they of the winning or losing party (read BJP and the Congress) managed to display any grace in accepting either their victory or defeat.
Each spokesperson of the BJP or the Congress was, at best, posturing her or his grace. They thanked the electorate for the verdict and congratulated their rivals acknowledging their role in the body politic so far. While all of them were accepting the need to introspect and analyse what went wrong, each was fairly confident of their analysis of the rival party's status. While the Congress came down heavily on BJP's much touted 'Modi Wave', the BJP dismissed the AAP as a mere regional player working at best as a vote splitter.
Why dismiss someone else's achievements? It is neither going to alleviate an abject decimation nor is it going to widen the margin of victory. The truth is the verdict is anti-Congress. Mr Modi in so many of his speeches has always urged people to oust the Congress. He never imagined that the Delhi electorate would consider AAP a credible alternative to achieve what he was suggesting.
AAP, on the other hand urged people to choose a corruption-free alternative for Congress and the BJP. AAP benefited much more from Modi's rhetoric which created more of an anti-Congress wave than a Modi wave AAP's follow through on the ground against the corrupt practices of the incumbent party perhaps made it a viable third alternative which today has enough credibility to sit in the assembly as a strong opposition.
Why can't the political leaders admit where their strategy perhaps went wrong? Why can they only analyse the chinks in the rival party's armour? Do they actually believe that admitting to a course correction may perhaps sully their image? After all, haven't the people already told them that they vote for performance and not platitudes?
Why don't they learn from cricket which is so dear to every politician? Why don't they learn from how skippers of teams give a fair assessment of the match result by pointing out their areas of improvements rather than the weaknesses of the winning or losing team? They are also expected to give a quick analyses of the situation which in most cases is more forward thinking in its approach than an emotional drubbing down of the rival.
Winning captain AB de Villiers said for the same match that it was "important to be confident" on the field. "After the game, we will have a drink and will be friends but in the field, we won't back down especially in our own conditions. Lots of credit should go to Hashim Amla and Quinton de Kock. Especially de Kock, who at such a young age scored that big hundred as we all batted around him," the skipper said.
Their goals are different — to win for their sides, come what may. Yet there is no condescension or patronising tone used by either side. And here we have political parties who have a common goal — to serve the nation. Yet they are so stingy in praising others and admitting their own weaknesses. They get personal and the argument dwindles into 'Did Modi work or not?'
Victory or defeat should be strictly connected to the situation and not people. Parties must win a competition and not win against who the opposite person is. People may keep changing, as with their opponents, but the goal should be the game. Then their outlook towards the two words shall change.
Lose the attitude. Win the game.
(The writer is managing consultant of The Key Consumer Diagnostics Pvt Ltd, a Mumbai-based qualitative research company)