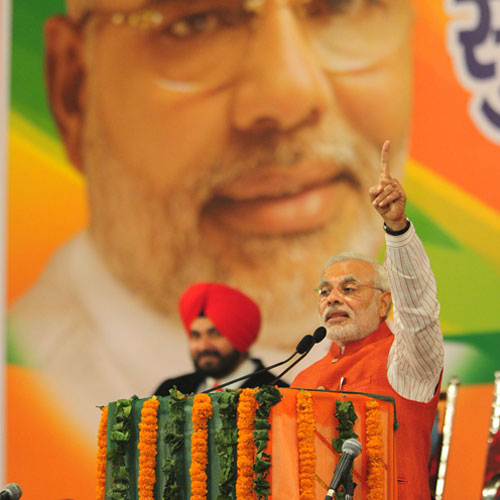 On Sunday, I chose Modi's rally over a baking workshop – I've never been to one. I had seen huge billboards of NaMo in Bandra; heard 8 lakh theplas were going to be served and didn't want to miss a chance to attend such a big event, considering that NaMo is a good orator and has a large fan base.
I decided to be one among the crowd and created an online pass. With a printout in hand, I headed to the MMRDA grounds. I walked with the crowd and took the back entrance to the venue. I tweeted what I saw, including a collage of images. These included photos of people sitting in front of a truck watching a large screen of NaMo in action.
Soon after, I saw a barrage of replies. Why? I was being virtually attacked for tweeting 'biased' images. So I created another collage to show the crowds. But it was too late to save me from online bullies, most hiding behind a pseudonym.
My ancestry was questioned, and so were my ethics. I was called names (Mahafried); some went to the extent of calling me 'paid media' (paid by the Congress, in this case) and a dynasty stooge.
One alleged BJP supporter 'diagnosed': I needed medical support and counselling. The barrage of attacks continued with people even questioning if I was really present at the rally and saying I deserved an award for managing to find an empty space on the ground. Some tweeted back with photos of crowds and statistics. The truth is that the MMRDA grounds are pretty huge (over 1,00,000 sqm). While there were lakhs of people, many left the ground to find shade outside. So no, the grounds were not jam-packed while Modi was speaking.
My experience taught me one thing: There is no space for unbiased journalism on Twitter. You are either pro-Congress, pro-BJP or pro-AAP and cannot be anything in between because if you are, no one will ever believe you.