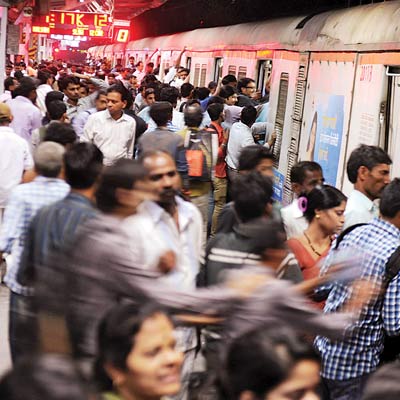 At the outset, I would like to compliment dna for taking the initiative to make suburban rail travel safe. For the past several years, the Mumbai Rail Pravasi Sangh has been demanding that the Railways make travel safe for suburban travellers. But the response from the Railway administration has not been satisfactory. Here I am trying to focus on the plight of the nearly 35 lakhs commuters who travel on Western Railway daily. If the Railways implement a few of the suggestions that I am putting forward, that will go a long way in resolving the problems of the suburban passengers.
1. Building an elevated rail corridor from Churchgate to Virar was one of Railways major projects. No one knows its fate now. It should be taken up on a priority basis.
2. There was a proposal to introduce air-conditioned locals. Since the doors would be closed, there wouldn't be the problem of commuters falling off trains. The Bombardier trains need to be operated expeditiously.
3. The Mumbai Urban Transport Project (MUTP) II is still incomplete. When will projects like the 6th line from Mumbai Central to Borivali be completed? MUTP II was not considered in the last budget.
4. The project to extend the Harbour Line services from Andheri to Goregaon has been going on for the last 10 years; when will it be completed? Also, when will Oshiwara station come up?
5. In the last rail budget, a line between Naigaon and Juichandra and one from Vasai to Diva were sanctioned, as also a car shed at Virar. They still remain on paper.
6. Western Railway announced plans to build 10 new foot over-bridges. This work is still pending.
7. In suburban sections, WR identified 38 platforms which have big gap between the coach foot-board and platforms. Raise the height of the platforms immediately.
8. Western Railway declared '1 minute issue of 5 tickets and get 1 ticket in 5 minutes'. What has happened to this?
9. In the last budget, 72 new services were announced, but only 12 have been started. What about the remaining ones?
10. Despite quadrupling tracks in the Borivali-Virar section, they are not being used optimally.
11. After DC to AC conversion, there has been no increase in the speed of trains.
12. Commuters want extra services from Andheri to Virar, Borivli to Virar and also new local services from Kandivli and Malad.
13. In last budget, Railways declared an 'Adarsh station' in the WR section. We are yet to see this ideal station!
14. More ATVM & CVM machines are needed, specially in the Virar-Dahanu section.
15. In WR suburban section, only 1,200 RPF jawans have been deployed for the safety of 35 lakh passengers. The strength of both the RPF and the GRP should be increased and each station should have a railway police station.
16. More CCTV & MDDF (metal door detection frame) and luggage scanning machines should be installed in major stations.
17. Build safety walls around stations to prevent trespassing.
18. Construct clean toilets in all stations.
19: Stations should also have purified drinking water supplying machines.
20. In western suburban section, there are only 450 checking staff (TC) for 35 lakh commuters. How can they do justice to their job?
(The author is general secretary Mumbai Rail Pravasi Sangh)