Sunil Ghume talks about the time when Lalubagcha Raja was called Marketcha Raja, and how things are no longer the same today.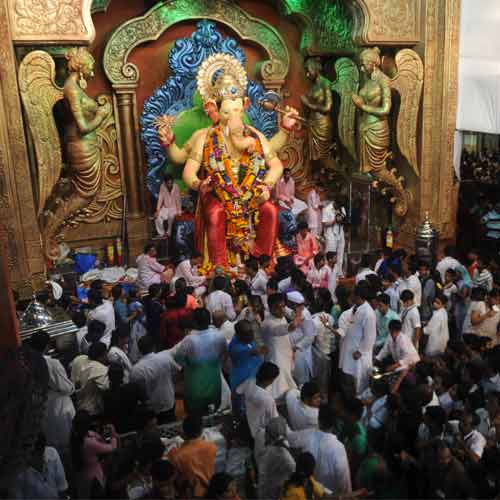 It was the day before Ganesh Chaturthi, a Sunday. Around 1 pm.
The navas queue at Lalbaugcha Raja had reached my building, Shantakiran.
My building is about one-and-a-half kilometres away from Lalbaugcha Raja's mandap. Generally, the navas queue touches my building on the second or third day of Ganpati. But this time, the serpentine queue had reached there one day before Ganesh Chaturthi.
Is this faith or blind faith?
To begin any new undertaking by offering prayers to Ganpati is faith.
But just because Lalbaughcha Raja has the reputation of fulfilling wishes, to wait in a queue for 10-15 hours seems more like blind faith.
Ganpati is Ganpati. How does it matter if it is the one at Ganeshgalli, or Siddhivinayak or the one residing in a small temple in your own colony?
Bow down before God, offer you prayers, even do circumambulations by all means. But to stand waiting in queues for hours in the expectation that God will throw something your way is mere naivety.
What surprises me is that even small kids, including babies, and entire families wait in these queues. Youngsters are also present in large numbers. At a time when everybody loves to prattle about just how wasted the young generation is, this may give some people hope. But I find it extremely worrying. What does this say about the mentality of these youngsters if they queue up in front of a God merely because he is believed to grant wishes? What happened to the value of effort? Why are they not working hard to achieve what they want instead of standing here?
I am no atheist. I believe in God. But I refuse to believe that this God resides in a particular idol or a particular temple. God is present in every animate and inanimate object, in nature, in animals and even in human beings. In that case, what is the point of spending hours in a navas queue? If I close my eyes and make a heartfelt prayer, I should be able to reach God. What is the point of that prasada, those flowers and that coconut?
People prefer spending time in the queue (that leads to Lalbaugcha Raja) instead of trying to get whatever it is that want, done. And it's not just that. They also try to as good as bribe that God by saying that if my wish is granted, I will offer so many pedhas or ladoos.
We have always been taught that when you visit God, you should do so with a clean body and pure mind. But after jostling in a crowd for 10-15 hours, using those temporary lavatories, napping through the night and remaining unclean (i.e. without a bath), how do you still see fit to offer your prayers to God?
I remember visiting Marketcha Raja when I was a child. That was a time when this ganpati had not assumed the identity of Lalbaugcha Raja. We used to be done with his darshan in a matter of 10-15 minutes. Traders then used to distribute small packets of Nirma washing powder, as a way of promoting the product. We also received free sherbet, again because someone was trying to promote it.
Then we used to set out for the garamkhada jatra. I remember an elephant, who on being given a one rupee coin, used his trunk to offer that person a boondi ladoo. There used to be toys and snack stalls.
But over the last few years, thanks to the people who come for their navas and thanks to people from the mandal, none of these fun elements remain. Nor does the fun.
Today, just as the navas devotees form a class, so do those who have come for mukhdarshan, i.e. to catch a glimpse of the idol's face.
Garamkhada maidan no longer has the jatra. What is does have is coils and coils of people waiting for Lalbaughcha Raja's darshan. I have not ventured close to this queue in the last five to six years. But I am told that there are coolers to ensure the devotees are no inconvenienced, and that devotees are offered tea and snacks through the night (as they wait for the ganpati's darshan).
It is as if my Marketcha Raja has become Marketingcha Raja.
In addition to the navas queue and the mukhdarshan queue, you will also find a celebrity queue at Lalbaugcha Raja.
There are reams of celebrities who are known to come for Lalbaugcha Raja's darshan. Some say they are invited by the mandal. Others say they come because this ganpati has granted them their wish and they are merely following up on their promise of visiting him.
In that case, why do they go straight to the stage?
Why can they not queue up like regular devotees? Or does a different protocol apply to these VVIPs in God's court?
Regular queues are held for as many as 10 minutes for these celebrities.
Is Lalbaucgcha Raja okay with this sort of discrimination?
These celebrity VVIP devotees are said to shower the ganpati with jewellery worth thousands of lakhs of rupees. But this celebrity VVIP, who arrives in his BMW and offers bappa a golden crown and rings and chains, cannot give the beggar standing right outside his car a one rupee coin. Maybe these VVIPs believe that all their sins will be washed away in exchange for the expensive gifts they offer to God. Just like that of the person who queues up for hours, this is faith of a different sort.
I have several friends who stay at Lalbaug. They also have to face difficulties. In order to reach their own house, they have to depend on a pass. This is because the police will ask them for a pass 100 times.
But they do not always complain. After all, this is a time when they are sought after. Why? Because friends, relations and colleagues believe they may be able to catch a glimpse of the Raja without having to queue up if they were to visit them.
Although I have stopped visiting Lalbaugcha Raja, I get to see him anyway. If I pick up a newspaper, there he is. I try to watch the news. There he is again. And he is also on cable TV 24 hours.
I meet him everywhere. And then, when I think about all those who queue up for hours, I feel sorry for them.
(The Marathi blog entry has been translated and condensed by Pradnya Waghule)
Source: Zee24Taas