In Mumbai, love running and have Instagram? Then you probably should be part of a unique Instagram community aimed at the running spirit.
The account on Instagram has 127 followers and boasts of more than 120 pictures that salute the spirit of sports and action.
Mumbai Runners started on Ganesh Chaturti in 2012 when businessman Deepak Oberoi and telecom professional Tushar Motwani, Chembur residents met and realised that they both share a passion for sports especially athletics. They undertook a joint morning run session along with their friends Kunal Madhyan, Hitesh Madhyan, Arun Hule, Rohit Chhabra and Bhuvan Chowdhary.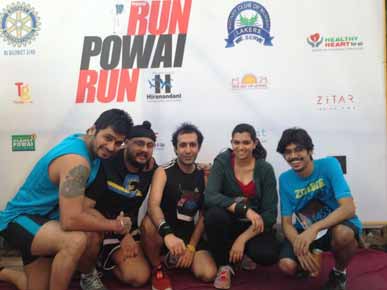 The fitness enthusiasts click pictures of themselves during their morning runs and uploaded them on their individual Instagram and Facebook profiles as a way of documenting their efforts. These pictures got a lot of likes and shares which led to Tushar realising that they could build the group up into something bigger.
This led to them setting up a Facebook profile on www.facebook.com/mumbairunners, this initiative urges people to tag their pictures with #mumbairunners in order to feature on the page.
They chose the name Mumbai Runners as they were people from Mumbai who were running and also because people in the city run in life to achieve their individual goals and this in turn makes Mumbai run.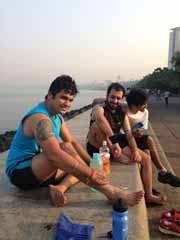 The medium was a common platform to encourage all Mumbaikars to take up running as an activity.
This initiative that started in 2012 looks to encourage people to run not just to be fit but also to for the passion and sense of achievement that comes along with running and exercise.
The pictures on the page range from runners participating in the Mumbai and Thane marathons to children participating in their school sports, the pictures capture the essence of athletics and fitness.
Finish line pictures with the joy of winning or managing to finish the race makes the viewer also participate in a running race to experience the same sheer joy.
Pictures of running shoes, people relaxing after a run, of senior citizens and physically challenged people running in a way eggs you on to pick up your sneakers and get practising for the next race in your neighbourhood or in the city.
The founders of the group envision having many more members to join them not only on their social media presence, but also in running, for a healthier and positive Mumbai.
The group plans to have their own website where they will educate people about running and Mumbai. They also intend to have an online magazine and a mobile app on the same lines.
The DNA I Can Marathon is on March 10th at the Bandra-Kurla Complex (BKC).
Register Now: Call 91 9321145463 or email marathon@dnaindia.net.
Registration amount: Rs500 (50% proceeds go to the cause you support)