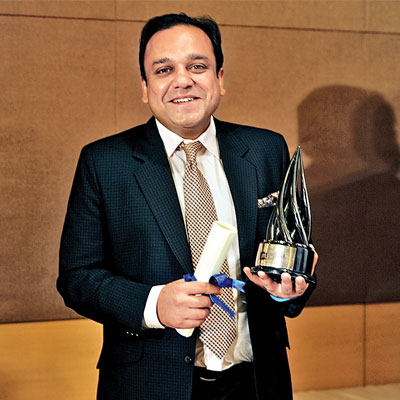 Zee Entertainment Enterprises Ltd (ZEEL) is gearing up for the launch of a new national Hindi entertainment channel Zindagi on June 23. Punit Goenka, managing director and CEO, spoke to dna on his plans for the new channel and the group.
Q) How will you differentiate Zindagi in the crowded GEC (general entertainment channel) space? Does it run the risk of cannibalising Zee's existing entertainment channel?
It may lead to fragmentation of viewership, which is the reality given the consumer need for choice and variety. Audiences will want differentiated content. Hence it is better to fragment than to get fragmented. Secondly, while the existing GECs are in the traditional line, we are trying to divert a progressive mindset here. Today's women are not just looking at traditional dramas, work-life balance is going to be the next big thing for them. This content lends itself very well to this audience set. It's unique because it's fresh, and different from current content that you see on GECs. We believe it will have its own USP and create premium mass audience, which will be a new category.
Q) Is this channel with Pakistani content? Are you looking at going beyond boundaries?
Absolutely! So while the first set of content is coming from Pakistan, we will be sourcing content from countries like Egypt, Turkey and even Latin America. The reason why we have identified these markets is that the content made there is adaptable for the India market culturally. Today, we are sourcing content and the future is in producing this content- buying ideas, buying stories from these markets and producing them either locally or within those markets where setting is much better and conducive.
Q) Are you looking at co-producing content abroad?
Yes of course. It has already kicked off. We have commissioned 12 tele films—6 produced in India and Pakistan each. We are also talking to production houses for co-producing shows based on successful novels which will takeoff by the year end or early next year.
Q) What is the kind of GEC market share you are looking at?
A significant share. It is difficult to put a number. With Zindagi, our share of the market should expand. You asked earlier if the new channel would cannibalise the existing channel... I hope it does because cannibalising also extends to other channels as well. So it is not losing consumers from Zee TV to Zindagi, but gaining ones from the others to Zindagi.
Q) Will you also have Indian content on Zindagi?
What we promise is an alternate viewing experience. So whether it is produced in Pakistan or Dubai or India, it doesn't matter. The USP is going to be the acclaimed writers and their way of telling a story. Rather than going to sets, we have real locations. We will give the people a new feel of content.
Q) Are all the rights owned by the Zee group or is there co-ownership on these rights?
We would prefer to own the rights, but we are open for co-production as well, as long as the territories of rights are demarcated. For instance, if we co-produce in Pakistan, we would give the Pakistan rights to them and keep the rest of the world with ourselves.
Q) What are the marketing initiatives for the new channel?
The differentiating factor in our marketing is going to be our digital strategy. From the simple point of questioning the need for moving from traditional GEC will be the USP. Unlike other GECs that target the Hindi-speaking markets, Zindagi will target Hyderabad, Bangalore and Chennai as well. Hence, the marketing plan will include these markets as well as the core that is the Hindi-speaking belt.
To create a brand that will target the 'premium mass' sensibility, we partnered with 'Dunning Penny Jones' of London to create brand identities – logo, on-air and off-air packaging. The channel has been packaged in a bright, vibrant, lively feel to give viewers an enhanced viewing experience.
Q) Will you look at Pakistan as a market if it is opened up?
As of today, Indian companies are not allowed to operate in Pakistan. But if and when the regulations change, we are open to operate in Pakistan. We operate in 170 countries already, so why not Pakistan?
Q) What are your other plans after Zindagi?
The next extension is going to be the expansion of the 'AND' brand (a premium movie channel launched last year) into other genres starting with the GEC genre itself. So that is the next thing on the card.
In the international market, we launched a channel in Indonesia in January and very soon, we'll be going to Thailand and Vietnam. We are looking at Africa as the next big market to expand into.