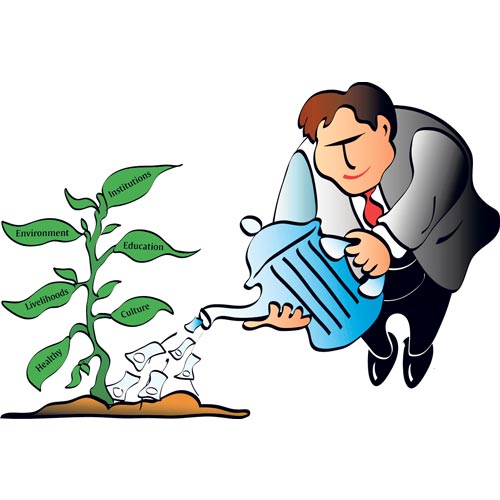 Repo rate, Reverse repo rate, Fiscal deficit, inflation are some of the terms that you will hear a lot in the coming months. From restructuring the economy to bringing in new policies, Finance Minister Arun Jaitley and Prime Minister Narendra Modi are all set to unleash some changes on July 10 post which we expect the economy to recover.
Post that, the Central Bank of India (RBI) along with Raghuram Rajan are expected to bring in some drastic changes in monetary policies too.
Below are some key concepts and terms that you need to know:
Consumer Price Index: CPI is a comprehensive measure used for estimating price changes in a collective of goods and services which is representative of consumption expenditure. CPI is used to measure Inflation and the percentage change in this index over a period of time gives the amount of inflation over that specific period.
Inflation: It is the percentage change in the value of the Wholesale Price Index (WPI) on a year-on year basis. Inflation consumes our net worth and investments value and also impacts the growth of the nation's economy, hence it is an important terminology that you may come across time and again. Inflation is caused by a mismatch of demand and supply chain and mostly demand overshooting supply. During periods of rapid growth and structural change, inflation increases.
Repo rate: (repurchase rate) It is the rate of interest that banks pay when they borrow money from the Reserve Bank of India (RBI) to meet their short-term fund requirements. It is also called repurchase rate because when banks borrow money from the financial institution, they use securities with the central bank as collateral. When the money is paid to RBI, the collateral is returned to the banks.
Related stories: RBI hikes repo rate by 25 bps to 7.75%, keeps Cash Reserve Ratio unchanged at 4%, consumer loans to get dearer
Reverse repo rate: This is the rate of interest that banks usually get when they keep their extra funds with RBI (Reserve Bank of India). Repo rate is always higher than the reverse repo rate. At present, the repo rate is 7.50% per annum and the reverse repo rate is 6.50%.
By controlling these rates, the RBI controls the rate of interest in the economy. RBI unexpectedly raised repo rate by 25 basis points from 7.25% and that led to a lot of volatility in both the bond and equity markets.
Cash reserve ratio (CRR): Cash Reserve Ratio is a specified minimum fraction of total deposits of customers, which commercial banks have to hold as reserves with the central bank (RBI).
It give more control to the central bank over money supply. Commercial banks have to hold only some specified part of the total deposits as reserves and it is called fractional reserve (FR).
Also read: Worried about your income tax? Here's what to expect from Budget 2014