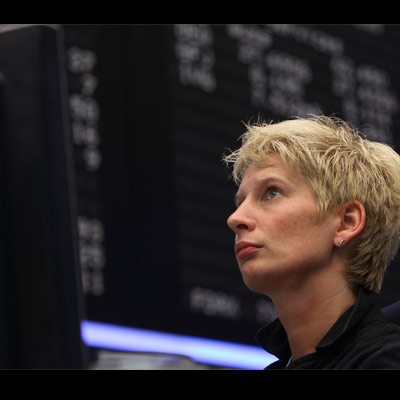 US stocks fell on their first day of trading in 2014 as investors booked profits in the wake of the S&P 500's best yearly advance since 1997.
Some of 2013's strongest performers fell on the day, though traders also scooped up bargains in some of last year's weakest names. All 10 S&P 500 sectors were lower, with tech among the biggest drags after Wells Fargo downgraded Apple Inc to "market perform" from "outperform," saying the company's market cap had limited upside potential without material market share gains.
Apple fell 1.4% to $553.02 and was the biggest drag on both the S&P 500 and Nasdaq 100 indexes. The S&P technology index fell 1%. Adding to the weakness in the group were those that had enjoyed the best gains in 2013, including Netflix, which was down 1.5% at $362.57, and Micron Tech Inc , which was off 1% at $21.52. Both names more than tripled last year. Conversely, Newmont Mining was the biggest gainer of the day, up 5.3% to $24.25; the stock was the weakest S&P component of 2013.
"There's no fundamental underpinning to the decline today, just basic portfolio rebalancing on the first day of a new tax year," said Jim McDonald, chief investment strategist at Chicago-based Northern Trust Global Investments. "People are taking profits and seeking bargains."
The Dow Jones industrial average was down 116.07 points, or 0.70%, at 16,460.59. The Standard & Poor's 500 Index was down 15.55 points, or 0.84%, at 1,832.81. The Nasdaq Composite Index was down 34.80 points, or 0.83%, at 4,141.79. The S&P 500 closed 2013 with a spectacular 29.6% gain for the year, its best annual performance since 1997, adding $3.75 trillion in market value. The Dow surged 26.5% in its best year since 1995. The Nasdaq jumped 38.3%, its best year since 2009.
An index of US factory activity stood at 57.0 last month, in line with economists' forecast but a touch below November's 2-1/2-year high of 57.3. Other data included weekly initial claims which slipped for a second week, to 339,000, suggesting labor market conditions continued to steadily improve. In another sign of economic improvement, financial data firm Markit said its final US Manufacturing Purchasing Managers Index rose to 55.0 in December, beating November's 54.7 reading.
"The data indicates that the economy has momentum in 2014, but the odds are low that we'll see gains of the magnitude we saw last year," said McDonald, who helps oversee more than $800 billion. "Valuations were the big driver last year, but now that those are richer we need earnings to pick up the mantle."
In a note to clients, Tobias Levkovich, chief US equity strategist at Citigroup, boosted his year-end 2014 target for the S&P 500 to 1,975 from 1,900, citing earnings progress as the primary driver. On the upside, US Steel Corp rose 2.8% to $30.32 after KeyBanc upgraded the stock to "buy," while Urban Outfitters rose 2% to $37.85 on an upgrade from Jefferies. Trading volume remained light on Thursday with many market participants away during the holiday-abbreviated week. Markets were closed Wednesday for New Year's Day.