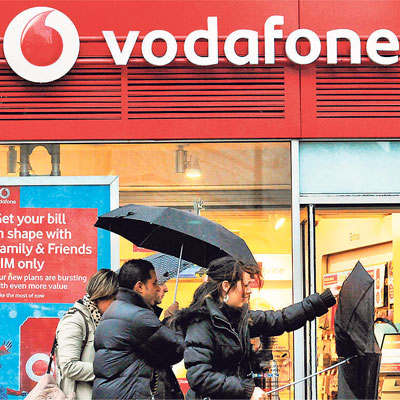 Vodafone, India's number two telecom operator, is likely to announce acquisition of seventh largest Indian telco, Tata Teleservices, within six months, sources said.
"Vodafone and TTSL are currently in discussions for acquisition, and are likely to announce a deal within the next six months," said a source with direct knowledge of the deal proceedings, requesting anonymity.
Both companies declined comment, citing speculation.
The deal though could face hurdles.
If the Japanese firm NTT Docomo's decides to sell its 26.5% stake in Tata-Docomo by exercising its put option by March 31 then Vodafone will have to negotiate a satisfactory price for Docomo's stake.
An analyst said, "TTSL has been unable to become Ebidta positive or grow its 3G subscriber base – which is a growing concern for Japanese partner NTT Docomo. If the deal goes through, Vodafone stands to gain from TTSL's subscriber base, which will help it play catch-up with Airtel."
Tata Teleservices has a total debt of Rs 23,491 crore. It reported a net loss of Rs 4,858 crore and a turnover of Rs 10,859 crore in last fiscal.
TTSL's infrastructure assets – in terms of its optic fibre, and towers, apart from the 3G spectrum that both companies hold in nine circles each, and Tata Docomo's CDMA spectrum in 19 circles – could also be useful for Vodafone which intends to launch 4G services soon; CDMA being the preferred band for 4G.
Vodafone may also look at buying Tata Communications, which has the largest submarine cabling and optic fibre networks globally.
"Then either Tata or Vodafone will have to buy out 26% stake the government holds in Tata Communications. In fact, financial advisors for valuation of the deal have yet to be finalised only because of the issues with the government's stake in VSNL and NTT Docomo's stake in Tata-Docomo which have to wait till at least next month," said a source with knowledge of the deal.
For Vodafone, which bought UK's Cable & Wireless in 2012 for $1.7 billion, making it the UK's largest fixed line player overnight with significant global enterprise presence, such a deal would help in India where it has identified fixed and enterprise as growth areas.
Vodafone is said to be talks to acquire TTSL since last month, when Cyrus Mistry, Tata Group chairman, indicated that the Group was keen to hive off its non-performing assets, including telecom.
At that time, it was speculated that an acquisition of TTSL by Vodafone could result in Vodafone becoming India's number one telco with 224 million customers with the addition of TTSL's 63.3 million customers during the same time period. Three days ago, Airtel became the first telco to have the largest subscriber base with 200 million customers in India.
MTS, Telenor and Aircel may ally
After the M&A norms with 25% cap on total spectrum holding in a circle, it is likely that 4-5 large operators -- Airtel, Vodafone, Idea Cellular and Reliance Communications --will remain standalone players, according to telecom experts. It is likely that MTS, Telenor and Aircel will form an alliance, they said. TTSL and Videocon are likely to go the Loop way and seek a buyout of their operations. Reliance Communications and Reliance Jio Infocomm may continue to partner for infrastructure sharing and spectrum trading in the near term.