With the Infosys Board announcing a slew of top level changes, NR Narayana Murthy's role will be re-designed as that of Chairman Emeritus, a titular role, with no responsibilities, no authority, and no obligations towards Infosys. Murthy, who was brought back into the company as executive chairman exactly a year ago, to revive the company, says he is voluntarily stepping down, and will want to spend time with his family. Excerpts from an interaction with media in Bangalore: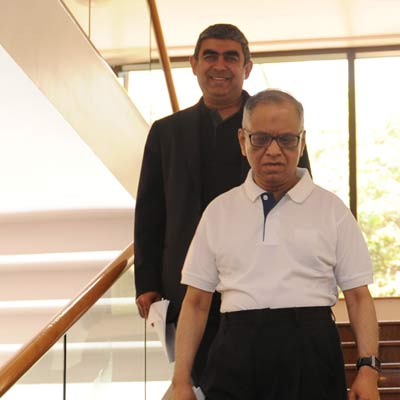 You are stepping down earlier than the three years you were supposed to be executive chairman?
When the Board requested me to come back, they gave two mandates. First to assist in finding a successor to Shibulal. And secondly, to create a strong foundation for the future growth of Infosys. I have fulfilled both these obligations. Vishal is an excellent choice. On the second obligation, as I said at the last AGM, the task would take 36 months to yield results. We have started initiatives on sales effectiveness, cost optimisation. I feel I have brought the second mandate to a shape that Vishal can now take ahead. Since I have fulfilled both mandates of the Board, its the appropriate time.
Vishal Sikka, being from the products side will need time to learn the business.
Sikka has a PhD from Stanford. That is a clear indication that he has the highest 'learnability quotient'. Given that he is young, has a wider perspective on various things, I feel he will have best aspirations for the company..
As Chairman Emeritus, what will your role be with Infosys?
That is just a recognition for being the founder of the company. Other than being a title, there is no responsibility, no authority, no obligation to Infosys. I am not a member of the Board. No officer of Infosys can discuss with me any matter that can have a bearing on the stock. I will be watching TV to know the results which Vishal will present in future.
So will you seek a role with the new government?
At this point in time, my first priority is to spend time with my grand-daughters. Spend time with my family, and hopefully I will be able to read on computer science, physics, mathematics.
How do you rate the model of having founders as CEOs?Do you feel you needed to bring an external CEO much earlier?
I believe all our choices were the best choices at that time.
What about the exodus that Infosys saw recently?
No employee who had to be retained was not retained.
New structure at Infosys
Dr. Vishal Sikka, former SAP AG executive board member, will be new CEO and MD of Infosys. Dr.Sikka will be inducted as a whole-time director of the Board on June 14, 2014. He will take over as CEO and MD from SD Shibulal on August 1, 2014 for a period of 5 years.

UB Pravin Rao, president and whole-time director will be Chief Operating Officer from June 14, 2014.

Infosys co-founders NR Narayana Murthy and Kris Gopalakrishnan will voluntarily step down as Executive Chairman and Executive Vice Chairman, respectively, on June 14, 2014. In order to facilitate a smooth transition of responsibilities, they will continue on the Board till October 10, 2014 as the Non-executive Chairman and Non-executive Vice Chairman, respectively.

The Executive Chairman's office will be dissolved with effect from June 14, 2014. Rohan Murthy, whose appointment was co-terminus with the Executive Chairman, will leave the company on June 14, 2014.

KV Kamath will become the non-executive chairman of the Board on October 11, 2014.

Narayana Murthy will be designated as Chairman Emeritus with effect from October 11, 2014 in recognition of his contributions to the company.

SD Shibulal will step down as CEO and MD and from the Board on July 31, 2014.

Srinath Batni, whole-time director of Infosys, will step down from the Board on July 31, 2014.
NR Narayana Murthy
Vishal Sikka is something special. He is Ph.D from Stanford. He has the highest recognition as an intellectual. And experience in managing a global company.
KV Kamath, lead independent director and chairman of the nominations and governance committee, Infosys
The committee adopted a rigorous selection process with the assistance of reputed global executive search and evaluation firms. Vishal brings a unique combination of technology prowess and business acumen.
Kris Gopalakrishnan, co-founder, Infosys
We have had an incredible journey since our start in 1981. There is an even more interesting journey ahead of us. Incredible innovations in future are to come.
Kiran Mazumdar Shaw, CMD, Biocon
Sikka is an outstanding personality and has a right profile to head Infy. He will very much capable of driving the transformation. Since he has played a key role in a firm like SAP, I think he will be able to steer ahead Infosys as well.
SD Shibulal, outgoing CEO, Infosys
Me and Vishal Sikka have worked together. Vishal is not entirely a stranger to Infosys. He brings the vision and capability we need to take Infosys to greater heights.
V Balakrishnan, former CFO, Infosys
Sikka has been a products man. But the whole services business is changing too, and becoming more product oriented. Sikka will be able to meet the challenges at the company.
Selection of new CEO
KV Kamath, Infosys lead independent director and chairman of the nominations and governance committee, said the task of finding the new CEO was laid down before the Board in April. "We completed the process in about two months time. It was a transparent, open-minded process." The Board held meetings with candidates in London and Mumbai and finally shortlisted four candidates. "Finally we narrowed down on Sikka who we felt was more suited to take up this role. We cannot name who the other candidates in the fray were. By October, the full transition will happen."