Euro higher on European outlook; Spanish, Greek yields steady; US Treasury yields fall.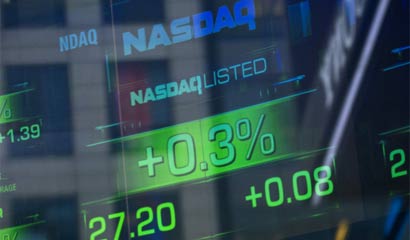 Major stock market indexes and Treasury yields slipped on Friday as concern about the stalemate in crucial US budget talks added to worries about slowing economic growth in the world's largest economy, though the euro rose on the European outlook. Adding to global fears were weak economic data from Brazil and Canada.
The euro fell to session lows against the dollar after data on US consumer spending and income fell short of expectations , though it later recovered as investors focused on a better outlook for Europe after a deal between Greece and international lenders earlier in the week. President Barack Obama accused a "handful of Republicans" in the House of Representatives on Friday of holding up legislation to extend tax cuts for middle-class Americans in order to try to preserve them for the wealthy.
"There is a stalemate; let's not kid ourselves," House Speaker John Boehner said on Friday, a month before the $600 billion "fiscal cliff" of tax hikes and spending cuts is set to kick in. His comments caused the euro to trim some gains. "Washington brinkmanship and a delay in reaching an agreement on the 'fiscal cliff' are likely to rattle markets. These risks and uncertainties are likely to keep markets volatile," said John Praveen, chief investment strategist at Prudential International Investments Advisers LLC.
The Dow Jones industrial average was down 8.52 points, or 0.07 percent, at 13,013.30. The Standard & Poor's 500 Index was down 1.13 points, or 0.08 percent, at 1,414.82. The Nasdaq Composite Index was down 3.48 points, or 0.12 percent, at 3,008.54. The benchmark 10-year US Treasury note was up 2/32, with the yield at 1.613 percent. A private report on business activity in the Chicago area in November matched economists' forecasts, portending moderate growth for the US economy.
"These numbers were soft," said Ryan Sweet, senior economist with Moody's Analytics, shortly after the consumer spending data was released. "It's a sign that consumers are cautious. They are tightening their purse strings with the jobs market taking a step back. The 'fiscal cliff' will likely hit spending later even though it's not in the forefront of consumers' minds."
World and European stock indexes were also capped by US uncertainty. The MSCI world equity index was little changed at 332.33, though it was still near its highest level for November, having added almost 1 percent on Thursday. The FTSEurofirst 300 index of top European shares slipped 0.2 percent to 1,119.36, following Thursday's 1.1 percent gain, which took it to a four-month closing high. Still, European shares are on course for their best month since August and a sixth straight monthly gain as sentiment over the outlook for Europe has improved since a deal was reached on aid to Greece earlier this week.
Those signs have also helped the euro, which was up 0.2 percent against the dollar to $1.3002 after climbing to a five-week high. The single currency touched a seven-month high against the yen. Strong demand at an Italian bond auction this week, which cut Rome's borrowing costs to a two-year low, and falls in Spanish bond yields have encouraged investors to return to European assets. Spanish and Italian 10-year bond yields were stable at 5.268 percent and 4.484 percent respectively, well below their peak in July, when Spain's debt yielded more than 6 percent.
But elsewhere, the economic outlook was not so buoyant. Brazil's economy posted extremely disappointing growth in the third quarter, increasing pressure on President Dilma Rousseff to make deeper structural reforms and adding to fears that big emerging markets are getting dragged into the stagnant morass of the global economy.. The US dollar rose 1.3 percent against the real. Canada's economy lost some fizz in the third quarter as exports recorded their biggest drop in three years and businesses scaled back investments, though the slowdown is unlikely to knock the Bank of Canada off its rate-hike stance. The dollar was little changed against the Canadian dollar.
The US fiscal crisis remains focus in oil markets due to its potential impact on demand from the world's biggest consumer. Crude was up ahead of the weekend. Brent crude rose 0.3 percent to $111.12 a barrel, while US crude rose 0.8 percent to $88.87 a barrel. "No significant progress seems to have been made in the US budgetary dispute, which has led to profit-taking, especially since oil is trading at the upper end of its trading corridor," said Commerzbank oil analyst Carsten Fritsch. Gold fell to $1,710.40 an ounce, buffeted by uncertainty over the US budget crisis.