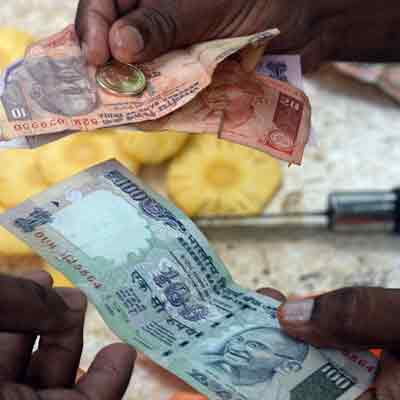 His two mobile phones keep ringing. "I have never had such a tough time in my life managing my phones!" says the soft-spoken, lean-built Chandra Shekhar Ghosh, 53, chairman and managing director of Bandhan Financial Services Pvt Ltd., sitting in his office in sector V at Salt Lake, near Kolkata.
Managing his calls and the steady stream of visitors since Wednesday evening when Reserve Bank of India granted him, along with IDFC, provisional bank licence, is the least of his worries now, however. This son of a sweet-shop owner has a bank to build now.
The regulator's move surprised the nation, as an entity unknown to the high street of finance, had been selected to become a bank after a decade, ignoring in the process applications from big business houses.
But Reserve Bank of India knew better when deciding whom to give licence, believes Ghosh.
His 55-lakh-strong base of borrowers, all poor and all women, probably was the deciding factor, he said. Also, the way Bandhan survived during the crisis that hit the micro finance industry triggered by the debacle of SKS Microfinance, wasn't lost on the regulator. The decision not to give incentives to field staff on loans given or collections done ensured that the interest of his borrowers was best served.
In an interview to dna, Ghosh talks about his survival and the road ahead for the country's newest bank.
Excerpts:
What do you think made Reserve Bank of India select you from among the 25 applicants; how was the appraisal done?
Our work was closely scrutinised by the Reserve Bank of India. RBI officials visited me and my officials innumerable times at our offices and also in the field in interior areas, which they visited many times without letting any of our staff know. Also, we deal with 34 banks in various ways, and our books with them were closely studied.
But that might only have proved that you are a deserving candidate. What do you think made them select you?
That only the RBI can answer. But my feeling is that, beyond the strong foundation of our operations, what tilted the decision in our favour was our 55-lakh-strong customer base, all women. I don't know anybody else having such an asset. Half of them have had no banking experience, and 70% are from rural areas. This I would call true financial inclusion, a key objective for the RBI when deciding on new bank licences.
You successfully survived the crisis in the micro-finance industry when even its existence was questioned and put to test. What are the things you did right?
Complete transparency and honesty in our operations are things we have been adhering to since the beginning. We also have specific measures to ensure that the interest of our borrowers comes first. For example, we never give incentives for either loans or collection. Incentive on loans creates excess credit than what my borrowers can manage, and incentive on collection would have led to our staff coercing our customers to pay up. Again, we give loan only for the amount that is actually needed and not what is asked for. Thus, if someone asks for a loan of Rs 1,000 and shows that she can pay interest on that, we closely assess her requirement. If it's only Rs 800, we give only that amount. This ensures that borrowers retain their ability to repay.
These measures were internal to you. What were the steps taken to keep the customers happy?
We made it a point to meet every customer at least once a week no matter how difficult it was. This ensured that we were kept updated about her venture, and about any problem she was facing. Also, the customer helpline number is printed on the back of the pass-book. This ensured that our customers weren't exploited, as our field staff knew the borrowers had direct access to senior officials. Also, our staff have been directed to talk and behave in a way that will make our customers comfortable. All these will now help us when we set up the bank.
Building a retail bank is a humongous task. How do you plan to go about it?
Infrastructure-wise we don't have to do much initially, though I think not all our existing 2,000 branches in 22 states are fit to be upgraded as bank branches. Then there is the need to re-skill our 13,000-odd employees. Fund-wise we are comfortable; we have a capital base of over Rs 1,100 crore and a loan book of Rs 6,200 crore where defaults never crosses Rs 10 crore. We keep raising debt, and about Rs 160 crore is coming from IFC shortly. These will help us see through the initial days of managing the bank.