STK Accessories, a subsidary of UK-based Santok Group, has recently announced its mobile phone product range that will be available for Indian consumers.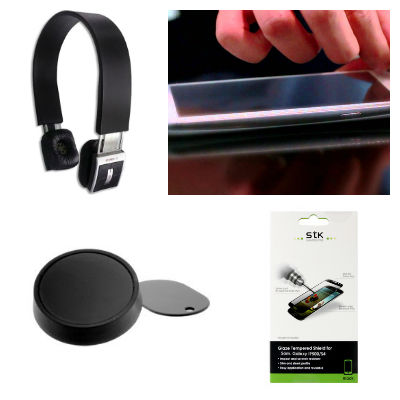 STK Accessories, a subsidary of UK-based Santok Group, has recently announced its mobile phone product range that will be available to Indian consumers.
The company's methodology to grow its brand in India is based on the seven areas associated with technological needs in India. They have categorized the same into Power, Protection, Bluetooth, Music/ Audio, iPhone/ iPad, Data and Holders.
"We have launched in Ahmedabad and will launch next in Mumbai. Our online partner is Flipkart.com and trade partner is Sangeetha," said Jay Pau, CEO of Santok group.
Before launching the product range in India, the company conducted a thorough research and market analysis on maximum retail price (MRP) for India. The company plans to focus on presentation and quality of products to compare with market biggies like Nokia and Samsung which already have production units set up in India.
The company was started in 1993 by Pau family in the telecom sector which later branched out to mobile phone utilities and accessories. After covering UK, the company entered Middle East, Africa and now is in India. It has tied up with Sangeetha Mobiles to penetrate Indian markets.
All the products will be sold online via Flipkart as well as offline in stores. There will be a total of 600 products available for Indians and will be priced competitively at par with other brands. "We are expanding after initial research in India and are securing our distribution channels. The products will not be produced in india but brought in from santok's extensive production units across Korea, Taiwan and China", adds Jay Pau.
"In the Indian handset manufacturer space, we have already tied up with Karbonn Mobiles and our strategy to gain market recognition is to use a mix of online-offline marketing and advertising" adds Jay Pau.
The company has 20 years of international experience in mobile accessories production and wants to target Indian consumers looking for quality products. "People are tired of bad battery life and durability of accessories as smart phone usage increases. Plus, the disposable income available in India is high and people don't mind spending for utility and services, hence we want to increase our market presence all over India and Mexico", adds Pau who is responsible for Santok's India expansion program.
The products will be available in all tier-2 and tier-3 towns and the company has increased its online presence to engage with consumers and get their feedback.
The company has hired a local distributor in Ahmedabad, Mumbai and Delhi and hopes to expand its operations in these cities in the next few months, followed by others. The aim is to make STK Accessories available across the country in the next 18 months.
-STK is launching a wide range of accessories, including earphones, speakers, power banks and protection cases.
Check out the power bank by STK here:
-Its Universal flip cover can be easily used for any 4-inch or 5-inch smartphone.
-Glaze is yet another offering from the company under the protection category that not only adds a screen guard but also protects the screen from breakage.
Authors take: As per Finance Ministry's proposal (2010) of tax breakers, many companies like Nokia, LG and Samsung increased their production units in India. Under this purview, all products are produced locally and hence are relatively cheaper as well. The biggest competition to Santok will be key market players who have already usurped large shares of market pie.
Also, other companies like Karbonn (Santok's tie-up in India), Micromaxx and Maxx produce mobile phone accessories for all brands which is another concern for santok. Also, with imposition of import duty on products arriving in India, Santok will find it tough to keep prices low. As the mobile phone markets grow and compete, consumers are spoilt for choice.
Check out STK's screen guard and its features here: