In this day and age there really isn't any stock in MBAs and Master's degrees anymore; everyone has one. So what does one do when the economic climate doesn't allow for hiring and has a whole lot of turnover?
Working in a big multi-national doesn't make sense because, firstly it's tough to get in; they aren't hiring, and secondly if you do get in, it would most likely be because of nepotism or some kind of inside connection. But what are freshers supposed to do?
It's hard enough that freshers have no experience, but now, no one is even hiring enough to give them the experience they so desperately need. Well, some millennials these days have decided to step out of the normal workforce and do what they're passionate about instead. With avenues like Facebook, Twitter and of course the entirety of the Internet, people these days can start their own brands and market their stuff online itself. Of course it isn't as easy as it sounds, but young professionals these days want to do what they love and not just do something to pay the rent.
I went out and got in touch with a few some people from Mumbai who have decided to start their own business or pursue other avenues of making a living.
Here's what they had to say;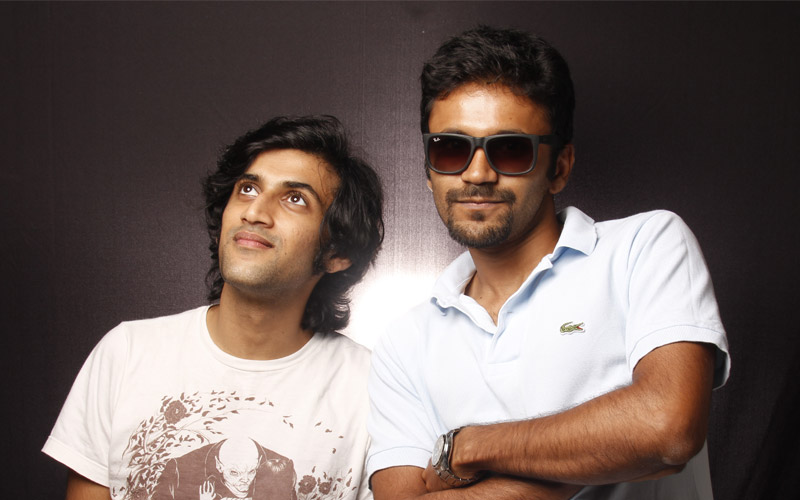 Jash Reen and Joshua D'Mello, Wolves Visuals
About Wolves - It is a live visual project and proto-rebellious medium for Joshua Dmello and Jash Reen. Currently teething, the project is being tested through 3D-mapped installations for alternative residencies (Smash Up, Bass Camp) and commercial mainstays like Lakme India Fashion Week.
Wolves will gnaw mercilessly at every last creative sinew in the city and spit out a full-forced live and augmented embodiment to match, breaching bold frontiers - from pop culture paralysis to nationwide anarchy.
(Bio taken from their official Facebook page)
1. What challenges did you have to face as a startup business?
We didn't really envision Wolves as a startup at first. We were just really curious about visuals, projection mapping and installations relevant to our city. One thing led to another and we started testing our experiments in synergy with Mumbai's nightlife. I guess the main challenge was that we needed to scale down a lot of these ideas to fit the existing club scene in India — certain things like time constraints, venue sizes, projector specifications and budgets. But its been a great learning experience so far and its only helped us fine tune everything for expansion.
2. What are the avenues available to startup businesses?
For the industry we deal with, social media and word of mouth are probably are strongest avenues. It provides a chronological portfolio of our work and it's also the easiest way to meet new clients. We deal with creating left-turn content and our pages kind of break it down for clients to understand how we can help them better. Initially, we just started building up our Facebook following, but we're looking at interesting ways of boosting our Instagram and Twitter activity. Get involved!
3. Despite the above mentioned difficulties, do you still believe that self- employment through startup businesses can combat issues of unemployment?
I wouldn't say that it's for everyone. For instance, with the advent of software and social networks, it's pretty much anyone's game to start a business. But that also leads to saturation, and it takes a lot of research and understanding the current economical landscape in your city before you can actually pierce through that saturation. It's also about staying consistent and passionate about the work you're doing long enough for your audience to understand that you're in it for the long haul.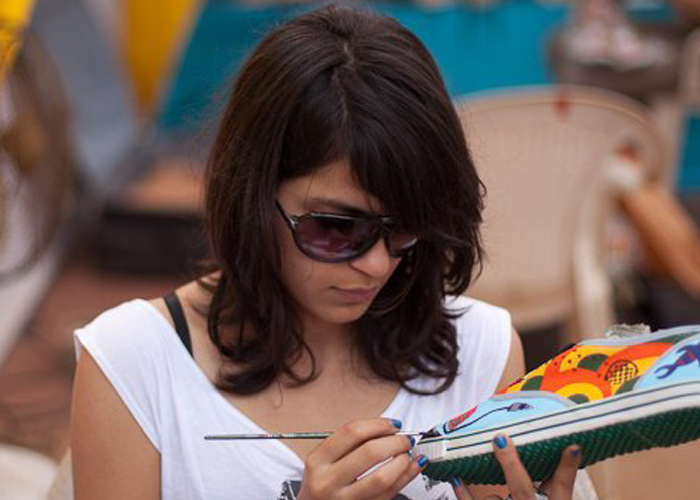 Azra Jetha, Alpha Cube - Custom Shoes, Apparel & Art!
About Alpha Cube - Presented by brother-sister duo Zainali & Azra Jetha who always knew they had the kicks for art but finally decided to use it to make your life a little funkier. So what is Alpha Cube all about? It's actually all about you. It's a way to express who you really are, stand out in the crowd, basically, wear your personality. From funky tribals & tattoos to the cartoons & super heroes we all love hand painted on shoes, T-shirts, denims, bags & almost about anything that can be painted on is what we have to offer. The best part is you can customise your paintings to get exactly what you want.
(Bio taken from their official Facebook page)
1. What challenges did you have to face as a startup business?
My brother and I never started Alpha Cube with the intention of business, we just went with the flow, but we had our fair share of challenges. Every client wants something different, we have to make sure we get it right and they get excited with their customised product. That's what makes us love it though, you learn a hell lot, you got to be open to it.
2. What are the avenues available to startup businesses?
A whole lot I would say. With the kind of social media available today, starting up and getting yourself recognised is not so difficult. If your work is good, it speaks for itself. Maintaining the business is what takes work.
3. Despite the above mentioned difficulties, do you still believe that self- employment through startup businesses can combat issues of unemployment?
Yes, most definitely! When you startup, your business becomes your baby, you want to see it grow. Self employment isn't easy, you're not getting a fixed salary at the end of every month. It is hard work, but it makes you feel so good. There is no smooth sailing in any kind of business, where's the fun in that?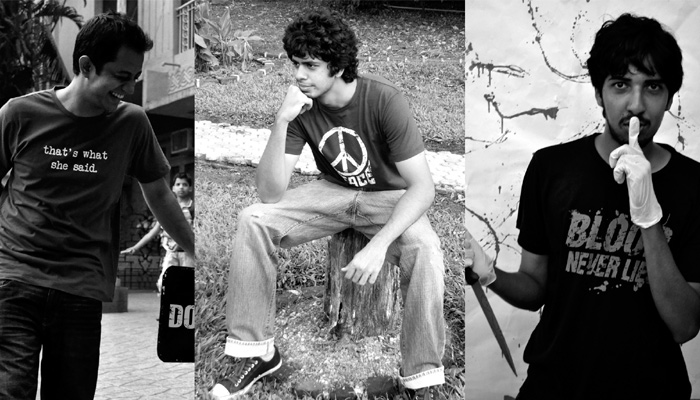 (Ameya Thakur, Vivek Malhotra, Rahul Jaisheel)
Ameya Thakur, Redwolf Apparel LLP
About Redwolf - We're an indie clothing brand dealing mainly with graphic tees. Our designs are heavily influenced by popular culture and we are biased towards more minimalistic and subtle designs. We run the show off of our online store on www.redwolf.in and we're also listed on a couple of marketplaces.
We're all a bunch of engineers and so that our degrees don't go to a complete waste, we have developed the website and tools ourselves. In addition to this, we also consult on the design and production of merchandise for bands, events and organisations.
(Official Redwolf bio)
1. What challenges did you have to face as a startup business?
This was a first venture for all of us - neither of us had a background in business or this industry, so we really had to start from scratch. We had to find reliable vendors and partners who were willing to customise a product for us and work with small quantities since we had very limited financial resources - we bootstrapped the company with our savings. We had a couple of hits and misses, but we eventually ended up with a good product - our T-shirts were comfortable, durable and had really great quality printing. Over the last two years, we've been fine tuning the supply chain every chance we get and we are always working at improving the overall customer experience.
So far, our production has never kept up with the consumer demand - this is probably the nicest problem any company can have. It's something we're working on and we're making some heavy investments to address the issue.
Finding affordable office space is also a major issue in Mumbai given the high rents. We started off initially with storing the inventory in our houses (which our parents graciously allowed us to do) - we now rent out a space in Andheri and we'll probably have to look for a bigger place early next year.
Apart from that, e-commerce being a relatively new space, we initially thought people would be apprehensive about online transactions, but it's been the complete opposite. People have been very open minded about supporting and buying from a startup, and I think we've built enough goodwill with our customers where they trust us enough to make regular online payments.
2. What are the avenues available to startup businesses?
Registering and starting a business has never been easier - the whole process is now online and relatively painless.
We're an e-commerce business and the online space is what we're mainly aware of. The Internet, and social networks specifically, are powerful platforms to reach out to people, be it a new product or a service.
Also, if you have a consumer based product and you don't want to create your own platform, there are multiple online marketplaces like Snapdeal, Flipkart and eBay that are doing a great job with order fulfilment. There are also loads of other niche marketplaces which cater to specific needs.
3. Despite the above mentioned difficulties, do you still believe that self- employment through startup businesses can combat issues of unemployment?
I think this is quite subjective. Some people are very happy working for an already established entity. For those that are inclined towards starting a business - it's one of the most exciting things you could do in your life. Especially if you get into it early into your careers, you can mitigate some of the risks of the business not working out (which is always a real risk) and you can try and pivot and change the model. But for the ones that do make it, not only are you employing yourself, but your company's growth will lead to you employing other people - you become a job creator. More jobs is always a good thing.