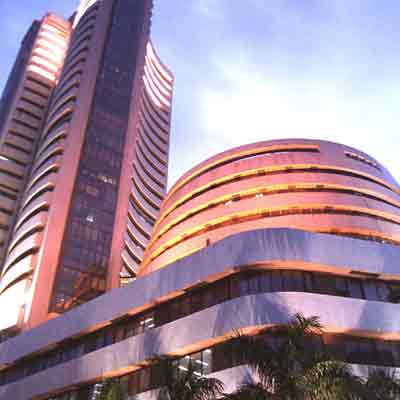 The BSE benchmark index Sensex today rose by 118 points to record closing high of 22,876.54 points on buying by funds mainly in capital goods and banking stocks amid monthly expiry in derivatives.
Similarly, the broader Nifty of the National Stock Exchange too gained 25.45 points, or 0.37% to settle at record 6,840.80 after touching all time intra-day high of 6,861.60 points.
The 30-share Sensex touched record intra-day high of 22,912.52 points on rise in Larsen & Toubro, HDFC Bank and ICICI Bank. Later, it pared some of the gains to settle at 22,876.54, up by 118.17 points.
"Nifty is showing continued strength on the upsides and is able to hold well above 6800 level for last three trading sessions. Technically, markets are showing optimism and buying is likely to continue in coming sessions," Nidhi Saraswat, Senior Research Analyst, Bonanza Portfolio Ltd, said.
In 30-BSE index components, 18 stocks gained and 10 declined, while Hindalco and Bajaj Auto held unchanged. Larsen & Toubro was the biggest gainer among Sensex scrips rising by 2.48% after positive recommendations by brokerages. HDFC Bank, which posted strong Q4 results, ICICI Bank, ITC and GAIL rose up to 1.48 %.
Major gainers: BHEL, Axis Bank, Tata Steel and Mahindra & Mahindra were also among major gainers.
*Mangalore Chemicals and Fertilizers Ltd rose 6.62% to Rs.66.05 apiece on BSE, after SCM Soilfert Ltd and Deepak Fertilisers and Petrochemicals Corp.
Major losers: IT major Wipro fell for the third session posting losses of 1.19% on lower than expected revenue guidance. NTPC and Tata Motors too fell up to 1.49%.
The capital goods sector index gained the most by rising 1.49% to 12,761.14 followed by banking index by 1.12% to 15,012.05.
The S&P BSE Sensex and CNX Nifty closed at new highs after hitting fresh lifetime highs during the session amid derivatives expiry and a day ahead of the sixth phase of Lok Sabha election.
The Sensex rose 0.52%, or 118.17 points, to close at 22,876.54, while the Nifty added 0.37%, or 25.45 points, to end at 6,840.80, record highs for both indices.
Rallis India Ltd surged 7.77% to Rs.179.65, after it reported a net profit ofRs.19.3 crore, up 71%, and net sales of Rs.324 crore, up 16%, from the year ago period.
L&T Finance Holdings Ltd rose 0.51% to Rs.68.85, after a news report said L&T Finance was in talks with Yes Bank Ltd for buying out the promoter stake in the company. Yes Bank rose 1.67% to Rs.441.55.
Stocks have witnessed a growth of 8.06%, while foreign institutional investors (FIIs) have bought $4.84 billion from local equity markets.
On March 18, Goldman Sachs gave a more upbeat view of Indian stocks, changing them to "overweight" from "marketweight" on the potential outcome for the elections and improved economic fundamentals.
Note: Markets will remain closed on Thursday as Lok Sabha elections will be held in Mumbai.
India's financial regulators and stock exchanges have formed a special committee to ensure that sharp swings in financial markets on the day the results of the ongoing general elections come out do not cause any systemic or liquidity risks.
TOP LOSERS BSE NSE
NTPC 122.15 -1.49%
WIPRO 525.00 -1.19%
TATA MOTOR 425.45 -0.84%
HEROMOTOCO 2249.95 -0.72%
SESA GOA 192.60 -0.57%
TOP GAINERS BSE NSE
L&T 1377.30 +2.48%
GAIL 384.20 +1.48%
BHEL 189.30 +1.42%
MAH&MAH 1036.75 +1.22%
AXIS BANK 1517.70 +1.18%
Tweets:
CURRENT:6,840.80, CHG:25.45/0.37%, HIGH:6,861.60, LOW:6,820.75 - Apr 23, 2014 15:53:30

— NSE_NIFTY (@NSE_NIFTY) April 23, 2014
MarketClose Value22876.54, Change 118.17 (0.52%), High:22912.52, Low:22780.13 - As On Apr 23 2014 4:00PM IST

— S&P BSE SENSEX (@SENSEX_BSE) April 23, 2014
Here's what international media has to say about outcome of elections on markets:
CNN: Much of the optimism hinges on forecasts that India's 815 million voters will make Bharatiya Janata Party candidate Narendra Modi the next prime minister.
Victory for a Modi-led coalition would end the Congress Party's dominance, and create an opening for a new government to implement economic reforms.
Analysts say India would benefit greatly from changes to its tax code, a reduction in excessive bureaucracy and more efficient agricultural policies. Momentum on these long-promised reforms stalled under the leadership of the Congress Party.
India Ink NY Times: Indian markets are also benefiting from the struggles of emerging countries like China, where slowing growth is worrying investors, and Russia, whose stock markets have been rattled by political tensions in Ukraine. Turkey and Brazil have been hurt by concerns that growth will slow as the Federal Reserve pares its stimulus campaign.
(With agency inputs)