GOSF, an initiative by Google India looks to bring together 240 e-commerce sites and offer the best bargains and deals. If you were planning to buy that camera, here's the time as industry experts hail this as the new trend in online shopping.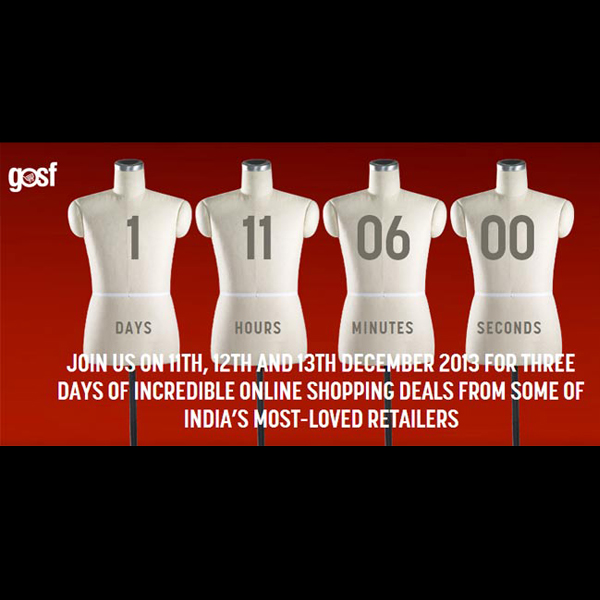 Are you tired running errands carrying monstrous bags, wading through stores to avail that discount but failing to grab new merchandise? Then worry not, for Internet giant Google has a major online sale with heavy discounts, major products and competitive rates.
GOSF was started in December last year. The second edition of the online festival is happening between 11-13 December starting at 9 am and is based on the concept of Black Friday and Cyber Monday in United States. E-commerce is a concept gaining strong grounds in India with major sites like Flipkart, E-bay and MakeMyTrip offering deals on multitude of products at discounted rates.
What's more advantageous is that you can compare the prices and select the best ones.
GOSF is an initiative to bring various e-commerce sites together who give discounts to increase their sales. In 2012, this festival helped the e-commerce sites to increase their sales by three times. Hence, it is seen as a major connector between consumers and various shopping sites.
The participants include 200 major e-commerce sites which have a loyal customer base. Brands like Flipkart, Myntra, Jabong, Shopperstop HomeShop18, Pepperfry, FirstCry, Snapdeal, Tradus, Zovi, Myntra, Yebhi, Bestylish, Indiatimes Shopping, PayTM Makemytrip etc are taking part in the major web-bonanza.
Various sectors such as eCommerce players, local & classified companies, online travel sites, auto companies, telecom companies, fashion labels, health and well being companies, to banking financial services are participating in GOSF, thereby making it an all exhaustive shopping spree that will last for 72-hours.
"This is India's version of cyber monday... with over 200 million Internet users in the country, more and more Internet users are opting to shop online and fueling the growth of both large multinational and homegrown companies," says Vice-President of Google India, Rajan Anandan.
"Industry estimates suggests that there are close to 20 million online shoppers in India and its estimated to grow to 50 million in next few years making it a 16 billion dollar industry."
Some industry experts hail this as a new trend in new commerce and a great boost for the economy in general. Also, e-commerce offers a great boost to the economy as sales increase and competition among brands reaches a healthy level.
Earlier, books were at the top of the list for online shoppers but today, daily usage, FMCG products and services are in demand.
"There is unlimited shelf space in an online model and hence more varieties of products are available to choose from. Also, it allows consumers from small towns to shop for brands which are not available in their vicinity, thereby improving the 'standard of living' and consumption patterns across all demographic areas", says Nikhil Pahwa, founder of news website Medianama who prefers shopping online.
"There are around 240 merchants (e-commerce sites) participating in GOSF which will offer many beneficial deals to consumers. Also, we have extended the tenure of the festival after receiving strong response from customers and merchant demands," states Nitin Bawankule, Industry director at Google India. He also adds that Google will continue digitising the Indian shopping space as the industry is pegged to reach 16 billion in terms of revenue by 2017.
India's e-commerce industry is growing at an exponential rate. Around 10 million users had shopped online in 2012 as compared to 18-20 million users in 2013. This puts India on the growth map as the 'Process of digitisation' by Google witnesses a huge push. There are many first timers and start-ups like My Greencart.com which have entered the GOSF shopping melee this year.
"Online shopping is more convenient and time saving. Customers have the ability to check items on various e-commerce sites for discounts and can compare brands with available reviews. It's now easy to buy imported products from different countries. I always prefer to shop online," says Neeraj Vora, Editor at Being Gadget and an avid tech-blogger.
"If there are massive discounts, I hope they have enough stock of products that I would like to shop. T-shirts, books and accessories are in my list," says Andre Borges, an avid online shopper.
Tips while shopping online:
-If you don't feel comfortable buying or bidding on an item over the web, or if you feel pressured to place your order immediately, maybe you shouldn't. It's good to trust your sixth sense.
-You may want to comparison shop, online or offline, before you buy. Make sure there are not extra shipping or handling costs.
-Read the offer scheme, rules and policies and also the legal policies for refund, exchange etc.
-Find and read the privacy policy. Read the privacy policy carefully to find out what information the seller is gathering from you, how the information will be used, and how you can stop the process. If a site does not have a privacy policy posted, you may not want to do business with it.
-Make sure the Internet connection is secure. Before you give your payment information, check for indicators that security software is in place. See Security section for this.
-Use the safest way to pay on the Internet. Pay for your order using a credit card.
-Print the terms. You should print out and date a copy of terms, conditions, warranties, item description, company information, even confirming e-mails, and save them with your records of your purchase.
-Inspect your item on receiving the delivery.
Check out Google's videos on GOSF here:
For tech-lovers:
For the kid and the home-maker:
For the stylists: