Dr Anji Reddy's son to look after branding formulations, new drug innovations and clinical trial modules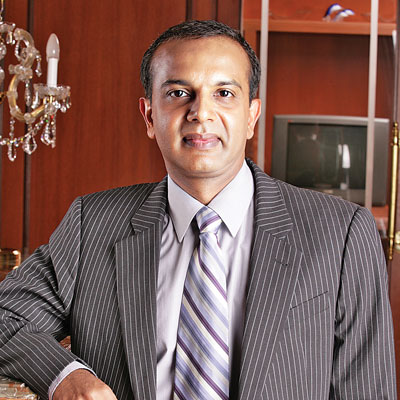 In an organisational change at Dr Reddy's Laboratories, Satish Reddy, son of late founder chairman Anji Reddy has taken over as chairman of the company.
G V Prasad, son-in-law of Anji Reddy, has been appointed as co-chairman and managing director.
Prasad was appointed stop-gap chairman in addition to his existing role as CEO in April last year following the death of Anji Reddy.
The company informed the Bombay Stock Exchange that its board of directors has decided to have separate roles for the chairman and the managing director and CEO.
"Satish Reddy has been appointed chairman of the board. He previously held the position of vice-chairman, managing director and COO. G V Prasad will continue as the CEO and provide leadership to the company in an executive role. Prasad has also been appointed as co-chairman and managing director," the company said in a statement.
Abhijeet Mukherjee, president, global generics has also been appointed as the chief operating officer. He will be responsible for both the global generics and pharmaceutical services and active ingredients (PSAI) businesses.
According to company officials, Satish Reddy is now expected to be the brainchild and main architect of the company's branding formulations, new drug innovations and clinical trial modules for making a better foray in the US and other European countries.
G V Prasad said, "We want to reassess and reorganise the corporate leadership roles and stabilise the corporate governance in the company."
"The role of chairman assumes significance as it drives corporate governance across the board besides government relations and is the custodian of the corporate brand," Prasad said, adding that the senior-level management changes will drive more growth for the entire leadership across the board.
The company on Tuesday reported a 15.64% fall in its consolidated net profit to Rs 481.6 crore for the period ended March 31, 2014, mainly due to higher expenditure on research and development.
During the quarter under review, net income of the company from sales and services increased to Rs 3,480.9 crore from Rs 3,339.94 crore during the corresponding period the previous year.
For the year ended March, net profit rose 28% to Rs 2,151.2 crore over the previous fiscal, while net income from sales grew to Rs 13,217.03 crore from Rs 11,626.56 crore.
Research and development expenses rose by 62% last fiscal at Rs 1,240 crore, and were 9.2% of revenues compared with 6.6% in the previous fiscal.
During the quarter, R&D expenses stood at Rs 398.5 crore from Rs 232.6 crore, an increase of 71% compared with the corresponding period of 2012-13. SG&A expenses during the quarter rose 18% to Rs 1030.7 crore.
Global generic sales increased 27.4% year on year (yoy) to Rs 10,516 crore last fiscal, mainly on account of higher sales in North America and the emerging markets. North America, which registered a yoy growth of 46%, was largely driven by key launches in limited competition space. The emerging market business registered a yoy growth of 21% while the Indian business posted only 8% growth.
Chairman Satish Reddy said though there was some impact due to the Ukraine crisis, the Russian market grew 16% yoy, largely driven by higher volumes of top brands and over-the-counter portfolio.
In the domestic market, there was a yoy growth of 8% to Rs 1,571 crore due to higher sales in chronic therapy and new products launches. The company's generic sales in Europe declined 9.7% to Rs 697 crore.
The company filed 13 new products in the US and total 62 abbreivated new drug application are pending for approval with the US FDA, of which 39 are Para IV and nine have 'first-to-file' status.
Ranjit Kapadia, senior VP - pharma, Centrum Broking, said, "In the corresponding quarter last fiscal, there was an extraordinary gain of Rs 122 crore. However, if this gain is excluded, net profit grew 7% yoy and 4%. Emerging markets are growing fast and the regulations are not too stringent. In R&D, the increase in expenses is on account of clinical trials for two molecules in biosimilars."