Plans to cover 5,000 towns, cities and over 215,000 villages in India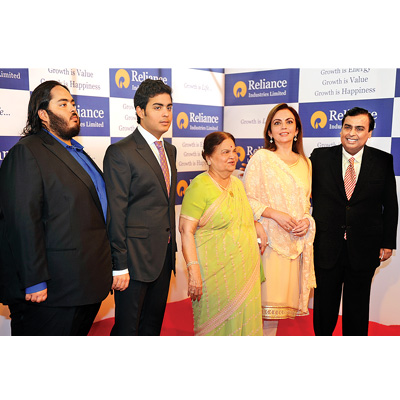 Reliance Jio, the ambitious telecom venture of Reliance Industries, plans to launch its 4G services in a phased manner in 2015 across India, chairman Mukesh Ambani told shareholders at its 40th annual general meeting.
"Limited field trials with our initial set of services for the broad band services are already underway. Expanded field trials will commence in August this year across multiple cities. These trials would continue through the end of 2014 and early part of 2015. The objective is to ensure that everything that we offer is future-proof and world-class," Ambani said.
The company called Reliance Jio a Rs 70,000 crore initiative which would be initially covering all states, 5,000 towns and cities accounting for over 90% of urban India and over 2,15,000 villages in India. The company claimed that over 1,00,000 people were working across the country in creating the digital infrastructure backbone for this network.
The energy giant was widely expected to launch its much anticipated 4G services in the current calendar year. However analysts are not much concerned about the likely six months delay. "If their trials are smooth, then they will get confidence to roll out the services much faster. Thus, a six month delay do not matter much if they are able to launch the services successfully," an analyst from a foreign brokerage firm said.
In 2010, RIL had acquired Mumbai-based Infotel Broadband, which had won nationwide 4G airwaves in a government auction. Four years down the line, the company is still not able to roll out services as 4G is still developing technology. In a report published on March 27, HSBC Global Research had commented that 4G rollout in India faces significant, but not insurmountable, technical and commercial challenges.
According to the report, Reliance's 4G network, which is predominantly in 2300 MHz high frequency band, suffers from poor coverage which has been the key issue for the delay in launch.
"Jio will need a significantly higher number of towers - we estimate 150K BTS over the next three years and this may offset tower rental discounts that the company may have benefited from," the report said.
On the ongoing controversy of falling production from KG-D6 block and gas pricing issue, Ambani said the company endeavors to work with the government for both the arbitrations to achieve prompt and efficient resolution on the matter. RIL is currently under legal battle with the Government of India where its facing charges for deliberately suppressing KG-D6 output.
Last month, RIL along with its partners BP and Niko resources issued a notice of arbitration to the government seeking implementation of gas price hike as suggested by the Rangarajan Committee, which was notified in January. Without clarity on gas price, the company along with its partners will not go ahead with the planned investments of close to $4 billion this year, it has said.
In last year's speech, Ambani had alluded to the MJ–1 discovery in the Krishna Godavari (KG) D6 block as a hydrocarbon resource that can substantially add to the company's reserves. However, due to lack of clarity on gas pricing, RIL had refrained from announcing any further investments for the block.