There's good news and bad news. First, wheat procurement levels are likely to be higher than last year. Punjab has registered a record grain output and procurement. At the same time, there are reports that the El Nino factor could result in reduced rainfall, especially in the north-western and western-central regions of India. That could affect next year's crop. But more on that next week.
The immediate problem is what should we do about the crop that is just being harvested? Will we allow it to rot in the open once again?
After all, India's grain storage facilities are woefully inadequate (see table). Data for 2010-11 (the latest available) indicate that warehousing capacity just does not even meet procurement requirement.
This situation could get far worse this year. To understand why, one must first take into account that – till last year -- not more than 55% of the grain harvested got procured. This is on account of two factors.
First, many farmers who wanted to sell their grain to government procurement agencies at minimum support prices often discovered that much of the procurement catered to well-connected and powerful farmers.
Marginal farmers were often ignored. As a result, many small cultivators had to sell their grain at distress prices which were often 30% below procurement rates.
Second, many smaller farmers opted to keep part of their grain at home for self consumption. These two reasons explain why just half the harvest got sold to procurement agencies.
But the recently introduced Food Security Act (FSA) changes everything. Wheat and rice will now be available to small farmers at Rs 2 and Rs 3 a kg respectively. This will persuade them not to keep grain at home for self-consumption. Selling it to the government at Rs 12-13 per kg and purchasing it back from the government at Rs 2-3 per kg does make more sense.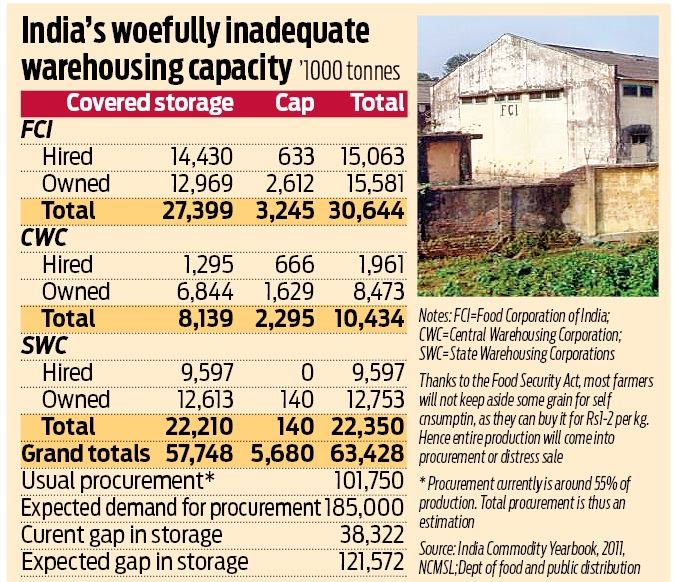 As a result, the grain available for procurement will be at least double the levels of previous years (and at significantly steeper distress prices). That could mean that almost two-thirds of the grain available for procurement will just not find decent storage. So will India lose two-thirds of its grain to rain, sun and pests?
India thus has just two options. First, augment storage rapidly. But that could take a lot of time -- partly because augmenting storage takes time, and also because the recently passed Land Acquisition Act will make building warehouses even more expensive and extremely difficult.
But there is an easier way out. Just sell off all the grain that cannot be stored properly through commodity markets -- either on spot price basis or on the basis of futures. That will transfer the cost of storage to global buyers. To meet any consumption requirements, India could begin purchasing smaller amounts of grain periodically all through the year. After all, with 63 million tonnes of grain storage, India has enough reserves to wait for the right price offer than resort to panic purchases.
It is possible that the total cost of purchase may turn out a bit more expensive that the total quantity sold through the commodity markets. But even this, that cost will be lower than the cost of a total write-off on account of rotting grain.
Selling surplus grain on commodity markets would also expose government procurement agencies to the rigours of inspection and gradation as global buyers insist on linking prices to the right grade and weight. This will prevent Indian procurement agencies from paying Grade A prices for Grade B wheat (as is believed to be quite rampant). Rotting grain helped such unscrupulous practices. It allowed evidence to disappear. But sale through commodity exchanges would allow for third party audits and inspections.
It could actually propel Indian warehouses into appointing better auditors and assayers of quality and storage systems. But will the sale of grain lead to food insecurity? Not really. Agronomists like Ashok Gulati have pointed out repeatedly that India's strategic grain reserves need not exceed 15-20 million tonnes. Using commodity markets to sell the grain that cannot be stored would be a good way to begin this process.
It would reduce corruption; end food destruction, and improve procurement and warehousing practices.