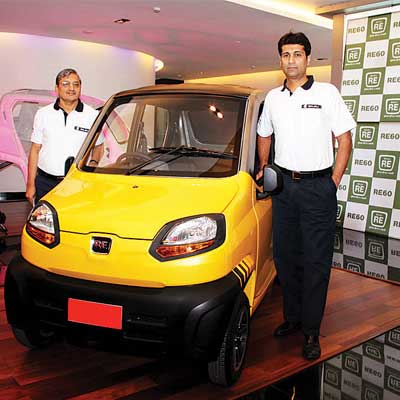 It's a car... it's a rickshaw... it's the first quadricycle.
Bajaj Auto, India's largest three-wheeler manufacturer, on Friday said it will begin exports of the RE60 in a few months even as it awaits regulatory policy for selling the quadricycle in the domestic market.
Though the government last year approved creation of a space for quadricycles – between cars and three-wheelers – there is no such category yet. The road ministry has formed a committee to examine all aspects of this category and Bajaj Auto expects the process to complete in a few months.
Bajaj Auto took almost 3 1/2 years to develop this vehicle, which was first showcased during the Auto Expo in Delhi last year.
The company has identified Sri Lanka, Egypt, Bangladesh and Nigeria among potential markets.
It is also looking to export this vehicle to European markets, along with Renault-Nissan.
According to reports, the companies have shelved their ultra-low-cost car project.
However, Rajiv Bajaj, managing director, Bajaj Auto, said the company is still in talks with Renault-Nissan and is looking at a distribution tie-up for selling RE60 in the European market.
"We can address the European market through Renault-Nissan. The partnership with the companies was not for technology but for their network and presence and in the international markets. They have a strong presence in Europe, which was not understood properly," Bajaj clarified.
"We have been talking to Renault-Nissan for past 4-5 years. They have not said they are not interested," he said.
According to Bajaj, Europe is the biggest market for quadricycles with almost 3 lakh vehicles on road. The RE60 meets the regulatory requirement in every potential market, except India, due to lack of policy.
The company, though, sees a huge a potential in the domestic market where it can be used as both a commercial vehicle and for personal use.
"We will try to pioneer in this segment as we start a new category. We are just a few months away from the launch," said Bajaj.
The company has created a capacity for manufacturing RE60 at its Aurangabad plant, where it also manufactures three-wheelers. To start with, it plans to manufacture 5,000 units a month of the vehicle, claimed to be much greener due to its low weight and high fuel efficiency.
The company did not disclose the investment on the product or the likely pricing.
Specsheet
Weight: 450 kg
Highest mileage: 35 kmpl
Max speed: 70 kmph
Length: 2750 mm
@Yugac