Parent ONGC itself should buy overseas assets now, say some officials.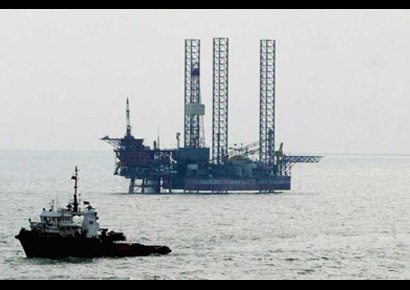 An attractive proposition of expansion in the global oil and gas sector, and shrinking prospects for major domestic growth, have led ONGC, India's biggest oil and gas company, to start thinking of an overseas venture itself.
There is a gradual consensus building, unofficially though, inside the company that instead of having a subsidiary in the form of ONGC Videsh Ltd (OVL) for overseas ventures, the parent company should merge OVL with itself so that the resulting mega-corp could scout for assets outside India.
"When we can be a bigger player with stronger cash flows, have an expert team in place, greater independence in decision-making and when the next level of growth has to come from overseas market, why should not ONGC itself go out and tap the opportunity?" said a top official in the company on condition of anonymity.
He said no ONGC-OVL merger proposal has been discussed officially yet, but some top ONGC officials feel any such move would be a step in the right direction.
According to Bloomberg data, ONGC, with $30 billion in revenues, stands 42nd among the world's top oil and gas companies. It is ten times the size of OVL which does not figure among the world's top 200. OVL's net profit is less than 10% of ONGC's and it completely depends on the parent for its debt needs for acquisitions.
The initial rationale for launching OVL in the '60s was to have a small presence of ONGC in overseas markets even as the parent grew in India. Five decades on, the situation has changed.
Major Chinese, South Korean, Indonesia and Malaysian oil and gas companies have a direct and strong global presence. Given the strategic importance of energy security for emerging economies in the 21st century, some officials feel it's time ONGC itself ventured out unless India wants to miss the bus.
"If we (ONGC) go alone, there will be a clash of interest with OVL. So, a merged entity will be much stronger and will have greater weight," the official said.
And given that the parent's production levels have been flat for the past six years and no major triggers are expected in coming years, growth has to come from outside India. For this, officials said, ONGC needs to start flexing its muscles overseas and take on the likes of Sinopec or Petro China.
Last year, ONGC produced 26.92 million tonne (mt) of oil — OVL's figure is 8.7 mt — and 25.51 billion cubic metre (bcm) of gas. This year, it is expected to grow by just over 1%.
However, according to the Perspective Plan 2030 of the company, ONGC has kept a target of two-fold domestic growth while the target for OVL is six-fold growth. This clearly implies that major growth for the next two decades will need to come from overseas.
BP's Statistical Review points out that India has a mere 0.3% of world reserves of oil, 1% of production but 4% of world's consumption. So, it is imperative that India secures its energy needs sooner than later, company officials said.