4 Black & 37 Blue Elephants awarded to advertising and digital agencies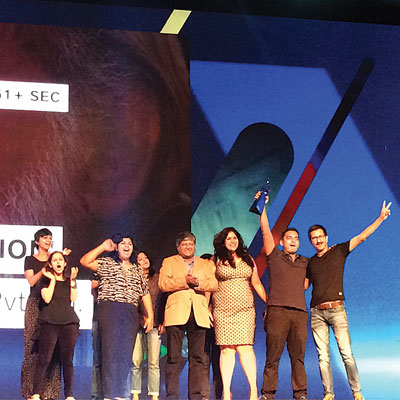 Kyoorius in association with D&AD, announced the winners of the 2014 Kyoorius Advertising & Digital Awards at the awards ceremony at the NSCI Indoor Stadium in Mumbai. Over 1,200 creative professionals from the advertising and digital spheres and clients from across India and some from around the world were in attendance.
Masters of Ceremonies Kamal Sidhu and Suresh Venkat conducted the proceedings accompanied by Dutch performer Ken and the Indian rock band The Other People and DJ Hiren.
The focus was clearly on the awards, as 114 in-book winners were announced, with 75 in Advertising, and 39 in Digital. In-book winners were also nominees for Blue Elephants, and among the 114 entries nominated, the two juries awarded 37 Blue Elephants - 24 in Advertising and 13 in Digital. Senior industrypersons presented the awards.
Ogilvy & Mather emerged as the most awarded agency, with three Black and seven Blue Elephants and 45 In-book wins.
Across the advertising categories, 24 Blue Elephant winners included campaigns by Grey Worldwide, Ogilvy & Mather, Publicis India, Sapient, DDB Mudra, Happy Creative Services, BBDO, Ideas@Work, Scarecrow, BBH, Soho Square, Creativeland Asia, First December Films and Candid Marketing.
And at the digital awards, 13 Blue Elephant winners included works by Hungama Digital Services, Creativeland Asia, Fractalink Design Studio, Webchutney, Sapient, 120 Media Collective, BBH India, DDB Mudra, NicheMinds, and Ogilvy & Mather.
Four Black Elephants were awarded to groundbreaking work that redefined the category it was entered in, by creating a new conversation with its audience, or a transformational impact on the industry.
DDB Mudra was awarded a Black Elephant for The Last Telegram (Category: Direct Response), a direct response campaign that saw an opportunity to commemorate the final day of India's telegram service by reminding Birla Life Insurance customers to think about their future.
Tim Lindsay, CEO of D&AD said: "I hope we've brought some rigour and transparency to the judging process. Certainly the standard of work has been fantastic -- something we saw demonstrated at D&AD's own professional awards three weeks ago in London, where Indian agencies had multiple in-book and nomination successes. Our commitment to this partnership is long-term. We look forward to an increased involvement with the Indian creative community as we develop our New Blood programme with Kyoorius."
Rajesh Kejriwal, Founder CEO of Kyoorius said, "Considering this was our first year for the Advertising Awards & Digital Awards, the response has been outstanding. The 988 entries across advertising and digital are further validation of the Kyoorius Awards format, and our association with D&AD. We will continue to provide a neutral and transparent platform for the Indian creative industry."
—By arrangement with MxMIndia