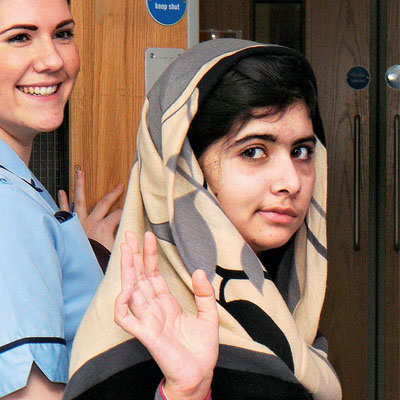 Ad agency Ogilvy & Mather (O&M) on Thursday apologised for a controversial ad for an Indian mattress company that sparked outrage across the world.
The ad had depicted Pakistani activist Malala Yousafzai being shot point-blank in the head and tumbling in the air, before bouncing back thanks to the mattress, to receive an award.
"We deeply regret this incident and want to personally apologise to Malala Yousafzai and her family. We are investigating how our standards were compromised in this case and will take whatever corrective action is necessary," said Greg Carton, a spokesperson, in a statement on the website, adding that Kurl-On ads from its India office are contrary to the beliefs and professional standards of O&M and their clients.
In addition, O&M said it has launched a thorough review of its approval and oversight processes across its global network to help ensure that their standards are never compromised again.
Malala, now 16, was shot by Taliban gunmen in Pakistan's Swat Valley in 2012, for daring to speak out for the rights of girls to receive education.
On Wednesday, Huffington Post reported that the ad is one of three created for the campaign by O&M's India branch, quoting the Mediabistro site Ads of the World. They were designed by the Chilean illustration firm Lamano Estudio. Huffington Post quoted Patricio Vergara Calderón, head of strategic planning at Lamano, that he was concerned the ad focused too much on the gunshot. "The Kurl-On ad tries to do the complete opposite, it's about triumphing over violence," he said.
The ad showed the young girl tumbling down after being shot at point-blank before coming to rest on a Kurl-On spring mattress. Rejuvenated, she then "bounces back" -- that's the campaign slogan -- to receive a prize.
The gory ad obviously drew a lot of criticism from the ad world and corporate world.
Late evening on Wednesday, Twitter was flooded with comments from across the globe. Charles Stanton said, "Absolutely terrible from Ogilvy." Kanika Gahlaut said, "The company should Kurl Up and die on this one."
"Too harsh and insensitive...Why to tread in dangerous waters?" asked Pooja Mutneja. Ankit Desai said, "That's just bad and insensitive..." K Yatish Rajawat, a journalist, said, "It's a worst example of Ogilvy India using Malala for selling a mattress, the ad should be banned and agency fined in some way."